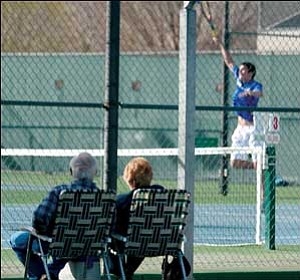 Originally Published: March 4, 2008 11:52 a.m.
Sunshine is forecast this week, bringing at least a temporary respite to the unpredictable precipitation patterns Kingman residents saw the past two months.
Data supplied by the Western Regional Climate Center in Reno, Nev., indicates Kingman averages 1.28 inches of precipitation for January and 1.06 inches in February. Amounts recorded at Kingman Airport and reported to the Arizona State University Office of Climatology included 2.19 inches for January and 0.64 inches in February.
Why have totals been so topsy-turvy this winter?
"We're all befuddled this winter, since it was supposed to be hot and dry," said Randy Cerveny, professor of geography at ASU.
"There seems to be a fair number of Pacific storms coming down from the Gulf of Alaska, but why is puzzling. A ridge of high pressure we normally get this time of year is farther out in the Pacific than we expected, so storms are able to get further south and into our area," he said.
Clay Morgan, a staff meteorologist with the National Weather Service in Las Vegas has another explanation.
"There's a lot of variance in precipitation, especially in the winter," Morgan said.
"We can look at average mean amounts but we don't associate standard deviation with those totals. Means for January and February tend to average out against extremely dry and wet months, as we've just gotten."
Temperature wise, Kingman was slightly below normal the past two months. Average maximums are 54.1 for January and 59.2 in February, months in which we saw 51.3 and 58.2 this year.
Temperatures are projected to be slightly above normal and precipitation below normal during March, April and May, Morgan said.
Average maximum and minimum temperatures, and precipitation in those months is as follows: March, 62.9 and 38.2 with 1.39 inches; April, 71.2 and 44.3 with .45 inches; and May, 80.9 and 53 with .35 inches.
La Nina - a phenomenon in which cooler water from the central Pacific overrides warmer surface water - remains a controlling weather factor.
"We're forecasting La Nina to continue as weak to moderate throughout the summer and possibly into the fall," Morgan said.
"Temperatures are two degrees below normal due to it. They fell below normal last May and have slowly declining since then. They're now forecast to level off and start to come back, but probably not back to a normal level before the fall," Morgan added.
La Nina is of moderate intensity and forcing the jet stream further north than usual this winter, Cerveny said.
He was asked about the impact on ground water supplies of one good rain month followed by a dry month.
"This time of year it's not as critical as you may think," Cerveny said.
"A lot of winter is associated with snow melt and runoff, so the fact that we're getting a fair amount of snow in the high country should lend itself to more water in the lower parts of the state as the spring progresses."
Drought in northwest Arizona is no longer classified as "severe," Cerveny added. Ground moisture is now slightly below normal.