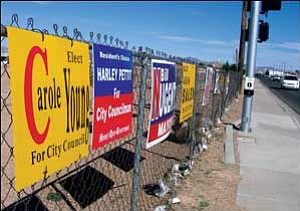 Originally Published: March 4, 2008 11:44 a.m.
If it wasn't obvious from the signs on every other corner and advertisements in every paper that this was going to be a spendy campaign, the financial records now available downtown pretty well point it out.
Mayoral candidate Bill Nugent, who is one of several to fund his own campaign, leads all contenders with his single expenditure of $4,870 for political signs, far outpacing that of any other candidate in this election.
Each candidate is required to document all campaign-related expenses if he or she spends more than $500.
Among the Council candidates, Keith Walker spent the most - nearly $1,700. He also has the most in his campaign war chest - $3,000 - all of it his own money.
Council candidate Todd Tarson is thus far the only candidate to receive money from any political action committee - $2,000 from the Realtors of Arizona PAC.
And mayoral candidate John Salem is the only one whose campaign was entirely funded by individual donations, rivaling Nugent with $4,155 raised so far.
Four Council candidates - Ron Bahre, Travin Pennington, Harley Pettit and Carole Young - fell under the $500 spending threshold and therefore did not have to file campaign financial statements. Allen Mossberg filed a statement but has not yet spent more than $500.
In the 2006 campaign, two Council candidates spent less than $500. Only one, Janet Watson, won a seat.
Ron Bahre is the only person vying for Council who hasn't advertised his candidacy with political signs.