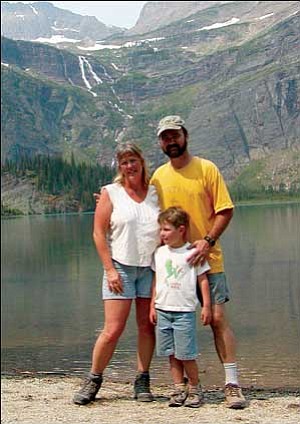 Originally Published: March 7, 2008 12:43 p.m.
Jerry and Kathy Armstrong of Missoula, Mont., both have hiked at Havasupai Falls in the past - Jerry once and Kathy twice.
"Havasupai Falls is one of the most beautiful places in the world," Kathy said. "It's like somebody cut a piece out of Hawaii and pasted it in the Grand Canyon."
The couple will make another hike there next week, along with their 6-year-old son, Keanu. Some friends from Delaware are flying in and will meet them for the hike, Kathy said.
The plan is to head in Monday morning, camp at the falls that night, and hike out Tuesday.
"It's 10 miles in and 10 miles out, quite a distance for a 6-year-old," she said.
The family hikes every night after work and has often done so in Glacier National Park.
"One of our absolute favorites is Iceberg Lake in Glacier National Park," Kathy said.
"We attempt that one as an annual every year, but it seems we can only get in every other year, as they shut the trail down mostly due to grizzly bears frequenting the area.
"That hike is 10 miles round trip, and Keanu has been hiking it since he was 4 on his own."
Hiking is one way to see Havasupai Falls. Traveling on horses or mules is another popular means of transport, and some people enjoy an aerial view from a helicopter.
Havasupai Falls is about 75 miles north of Seligman. Its waters have a bluish-green tint and the fall is forked, making it appear like two falls during times of heavy water flow.
More information about the location may be viewed on the Internet at www.havasufalls.net.