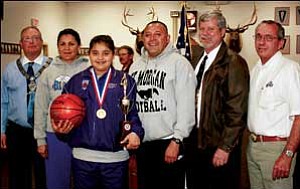 Originally Published: March 10, 2008 1:50 p.m.
Desirae Gonzalez may only be 10 years old, but the Kingman girl has the opportunity of a lifetime as she attempts to get her name forever enshrined at the Naismith Memorial Basketball Hall of Fame in Springfield, Mass.
Desirae will be competing in the Elks "Hoop Shoot" National Free Throw Contest on April 24-27. The daughter of Danny and Melissa Gonzalez has already won four contests to earn her spot in the nationals.
"It would be really great to get my name on a plaque in the Hall of Fame," Desirae said. "That's why I hope I win."
Desirae won the trip to Springfield when she sank 19 of 25 free throw attempts on March 1 at Hyde Park Middle School in Las Vegas.
Although Desirae was surprised - "I was shocked that I won," she said - her parents weren't: "We knew she had a chance because she's a gym rat," Melissa said.
The Gonzalez family spends a lot of time on the basketball courts. Danny is the coach of the Kingman High girls basketball team, and Melissa plays for the Bad Girls in the city league. Desirae's sister, Kristen, just recently played in her last game for the Bulldogs, and her brother, Danny, played for KHS boys as a freshman.
"We told her that when she went to the gym with us she had to do something," Melissa said. When Desirae practices, her focus is on shooting streaks that result in approximately 300 to 400 shots a day, her father said.
Desirae's siblings had also entered in the free throw shooting contests when they were of age, but the youngest Gonzalez has been able to surpass them both. Kristen was able to make it to regionals three times, but she never got to nationals.
The younger Danny had made the Colorado state tournament, but he fell short of getting to regionals.
"She's determined and ambitious now," her father said. "First it was to win state, but now she wants to win at Springfield so that she'll be invited to Anaheim."
Should Desirae win in Springfield, she'll be invited to the national convention of the Elks, according to Melissa. To Desirae, Anaheim means Disneyland, Melissa said.
Desirae won the Arizona state competition when she made 20 free throws. The reward for winning that contest was a trip on the "junk-food express."
The Arizona Elks organizers charter a bus for all the state winners to ride together for the regional competition, along with family members. The kids are provided with whatever junk food they would like, and the Elks would walk up and down the aisle handing it out.
Desirae had been on the "junk-food express" when Kristen represented Arizona, but she wanted to earn her own ticket for the ride. However, this year's ride wasn't the same experience as it was when she rode with her sister.
"It wasn't that fun because now I have braces," Desirae said. She wasn't able to eat the jerky or the candy because of them, Danny said.
According to a news release from the Benevolent and Protective Order of Elks, this the 36th year of the competition, and more than 3 million boys and girls participated in the event. Desirae is one of only 12 who have a shot at the national championship in the 10-11-year-old girls division.
Should Desirae prove herself successful, she'll join the likes of some notables such as Trajan Langdon of the Cleveland Cavaliers, Iowa Hawkeyes coach Steve Alford and the Golden State Warriors general manager Chris Mullin.
When Desirae heads to Springfield, she'll be just like any good athlete and bring along some good luck charms with her.
"I have a lucky uniform. I wear Kristen's shirt and Mom's lucky shorts," she said. "But I have my own lucky shoes."
It was Danny, while speaking about his daughter with great pride, who summed up the experience best for all parents to take note.
"This is just one of the rewards for spending time with your kids," he said. "It's about being a family."