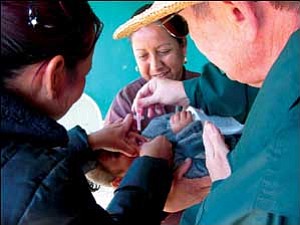 Originally Published: March 10, 2008 1:16 p.m.
One of the Miner's own took a trip to Mexico last month to give impoverished children "two drops of life" in hopes of one day reducing to a mere history lesson one of the world's most debilitating diseases.
John Myers, a Miner advertising sales representative and a member of the Kingman Route 66 Rotary Club, left Kingman with fellow Rotarian Jo Ann Oxsen the morning of Feb. 15. Joining more than 50 other Rotarians, their spouses and friends, they converged upon the town of Quartzsite, where they boarded a bus and drove to their final destination, the desert town of Caborca, about 100 miles south of the Mexico border.
Through the morning and early afternoon of Feb. 16, Myers and the Rotarians branched out through the rural villages surrounding Caborca. With interpreters and local clinicians in tow, the Rotarians went from door to door, giving out free candy and, more importantly, free polio immunizations.
That Saturday morning in Mexico, the club members immunized more than 350 infants and children. Myers said he was amazed at how many mothers kept their children's medical records readily available, even in the most impoverished areas.
"It's really quite a humbling experience," he said.
This year's trip was old hat for many of the Rotarians. The organization's 1.2 million members worldwide have made the eradication of polio one of their top causes.
Though the disease was already banished from most of the world in the last few decades, it still clings to life in four countries: Afghanistan, Pakistan, India and Nigeria.
And even though the disease is suppressed in Mexico, children still require immunizations to prevent the disease from making a comeback.
The Rotary Club of Santa Ana, Calif., made its first journey to Mexico 18 years ago, and the trip has only gotten bigger since.
"Over the years they've invited other clubs to join their endeavors," he said. "Seventeen different clubs (from Arizona and California) were represented on this last trip."
This was Myers' second trip to Mexico with the Rotary Club. He joined in Illinois more than eight years ago, "to serve mankind," as he put it.
"The Rotary motto is 'Service above Self,'" he said.
Even so, Myers said he has a lot of fun doing his good works and sharing the experiences. He intends to return to Mexico next year, though it may not be easy.
There's a waiting list now.
"It has become popular enough among Arizona Rotarians that Don Schiller of the Prescott Sunup Rotary Club is working on getting a fall trip together," he said.
Myers said that even if he can't communicate with the children he's helping, the gratification he feels often goes beyond words, and that's why he wants to continue the visits.
"The smiles on the children's faces, that's an endearing memory," he said.
"The sparkle in the eyes and the smile of the children is often all the communication you see."