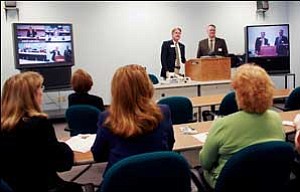 Originally Published: March 13, 2008 12:24 p.m.
Students enrolling at Mohave Community College to begin pursuit of a bachelor's degree will find the pathway to their goal easier following signing Tuesday of a "dual admission" agreement between MCC and Northern Arizona University.
"We'll now promote bachelor's degree completion through a pathway that lets students know what they must do from the beginning," said Fred Hurst, NAU vice president for extended programs and dean of distance learning.
"This targets students eligible to enroll at NAU that begin at Mohave Community College by waiving of the admission fee and giving them access to resources like our library and admission to basketball and football games, even if they are just taking MCC courses."
MCC Chancellor Mike Kearns and Hurst signed the agreement, which marks introduction of a 90/30-credit transfer program between the two institutions.
It permits MCC students to transfer up to 90 college credits to NAU as they pursue their bachelor's degree after first obtaining an associate's degree at MCC. Those students are able to transfer about 50 percent more credits than in other current two-year transfer degree programs.
Under the 90/30 partnership, NAU will offer four bachelor's degrees. They are a Bachelor of Arts and Bachelor of Science in interdisciplinary studies with emphasis in public management, and Bachelor of Arts and Bachelor of Science in interdisciplinary studies with emphasis in humanities.
John Haeger, president of NAU, spoke via teleconferencing from Flagstaff to NAU/MCC gatherings in Kingman, Bullhead City and Lake Havasu City.
"There's a long history of partnership between NAU and MCC, one that has been of great value to the state of Arizona," Haeger said. "We've done great service together, but there still are not enough students graduating that are fully ready for the 21st century.
"We need more workforce preparation, and now we have a new model for it. The 90/30 transfer will enable students to pursue the third year of their education in their local community."
Kearns then told everyone that MCC sees the agreement as another tool to extend programs to residents of Mohave County.
Hurst lauded MCC for taking a leadership role in identifying and serving new students, and letting people know how important education is to the economic viability of the communities it serves.
NAU currently has 12 graduate and certificate programs, plus six undergraduate programs delivered at MCC campuses. In addition, NAU offers 39 undergraduate and 19 graduate and certificate programs online.
Kearns was asked before the start of the press conference if he feels the agreement will boost enrollment at MCC.
"We hope so," he said. "Our perspective is a lot of students heading to the university bypass MCC because they're unaware of the partnerships already in place.
"We need more opportunities to let them know about access to a bachelor's degree through partnerships leading to a better quality of education. We must bring them opportunities through technology and programs. We have the technology in place and now are supplementing it with more programs."