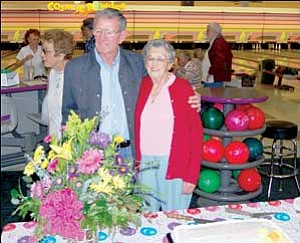 Originally Published: March 18, 2008 1:26 p.m.
After bowling for 20 years, Girlie Stanton averages 113 pins in her Monday and Thursday leagues. The initial thought may be of that bordering on the side of unremarkable, until you find out that Stanton just turned 95 on March 10.
Stanton bowls in the Monday's Professionals League for Air Quality and in the Thursday Seniors Fun League as a member of the Goof Offs.
"We've got very good people in both leagues," she said.
When Stanton made her way to the bowling alley at Cerbat Lanes on Thursday for her league, a round of applause broke out among the many bowlers present. Stanton was presented with a bouquet of flowers and a birthday cake.
"This is wonderful," she said. "They did this last year, but I had found out about it. This is a surprise for me."
Stanton said that she took up bowling late in her life because her first husband of 48 years didn't bowl. That changed when she married Jack Stanton 21 years ago.
"Jack got me bowling," she said.
Tournaments don't hold any special interest for Stanton; she seems quite content to compete in the league bowling. "I like just plain bowling for fun," she said.
In addition to bowling, Stanton enjoys tatting, knitting and crocheting.
She said that reading is another joy. "My favorite reading is 'The Guideposts,'" she said.
There isn't any doubt that Stanton has touched a lot of people during her long life. Many well-wishers came to wish the gentle soul a happy birthday at Thursday's celebration.
"I've known Girlie for many years," Sis Mucklow said. "She's just a wonderful and beautiful person. And she bowls like a champ."
Tinkey Burrowbridge, who organized the purchase of flowers and cake for Stanton, recalled a game when Stanton was able to get the best of her.
"Once she beat me and she was so excited about it," Burrowbridge chuckled. "I told her that it was okay because I was going to whip her butt next time."
Stanton has lived in Kingman for 40 years, and according to her husband Jack, she used to be the cake lady of Kingman.
"She's made millions of cakes for me and for the restaurants around town," he said.
One special cake that Stanton made was back in the early 1970s when Howard Hughes of aviation fame struck a bargain with Stanton. If she made Hughes a cake, he would have her flown from Kingman to California, Stanton said.
"It was 9 feet tall, and I needed a stepladder to finish it," she said. "It took two station wagons to haul it to the airport."
Stanton said that she wasn't flown to California in Hughes' notorious Spruce Goose, but he had one of his pilots fly her to California.
As much as Stanton enjoys the game of bowling, she does wear down some after the long season. Especially since Stanton bowls in two leagues per week. "When it's close to the end of the season, I'm glad," she said. "But, then I start to look forward to the beginning of the next one."
At 95, Stanton continues to set goals for herself. She enjoys the company of the many people that she comes into contact with through bowling, and she wants that to continue.
"I've met a lot of nice people, and I'm looking forward to five more so I'll be 100, if I can," she said. "I'm already three days into it. I'm in good health and I'm still here."
When it comes to living a long life, Stanton had three pieces of advice for those who would want to emulate what she is doing.
"Don't drink, I mean hard liquor, don't smoke and work like a son of a gun. I was born and raised on a farm, so I started doing chores when I was 5."
"She's an angel put on earth for a lot of people," Burrowbridge said of Stanton. "I was in the hospital not that long ago and I could feel her prayers."