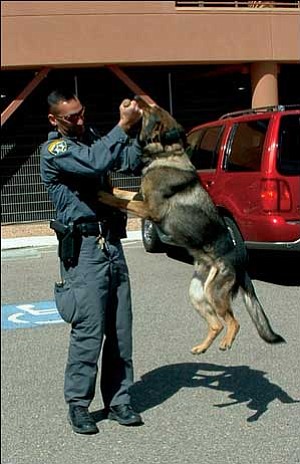 Originally Published: March 24, 2008 1:28 p.m.
The Mohave County Sheriff's Office is doing its best to take a bite out of crime.
While the MCSO has used K-9s for more than 10 years, they only utilized one to two dogs at a time.
"We weren't really able to do what we wanted to do," Mohave County Sheriff Tom Sheahan said. "This is a very important part of the Sheriff's operations."
When Deputy Raja Karim came to the agency in 2002, he served as the driving force for the MCSO to obtain a K-9 unit, Sgt. Ron Weber said. Karim had worked with dogs in the past, specifically as a decoy for other K-9 handlers.
"I figured it would be a good thing," Karim said of adding a K-9 unit to the MCSO. He was partnered with Ganto in 2006.
"He's a 110 percent every time I tell him to do something," Karim said.
While Karim was the spark, Sheahan worked on obtaining financing and the proper personnel. Weber, who heads the unit, did research about K-9s and K-9 units.
In May 2004, the MCSO received its first K-9 specifically for the unit. Within weeks, it was able to obtain a second K-9.
Now with five on the team, the MCSO K-9 Unit has assisted every law enforcement agency in Mohave County and many others throughout the state, Sheahan said. About half of their responses assist other agencies, specifically the Arizona Department of Public Safety, Weber said.
"It's kind of a compliment when they (law enforcement agencies) call you and they have their own dogs," Karim said.
Four members of the unit are based out of Kingman, while Deputy Sam Ruiz works out of Lake Havasu City with his K-9, Angus. The unit is on call 24 hours every day.
When responding to calls, they generally send two handlers out at a time. This also allows the dogs to switch on long calls and rest.
"A dog using his nose for three minutes is like us running a mile," Deputy Stephen Padilla said.
The initial 12-week training of a K-9 and handler costs approximately $12,000, Weber said.
Each K-9 and handler must undergo certification every year. They recently had patrol certification testing in New Mexico, where they were required to search for a suspect, apprehend a suspect and accomplish control work with the K-9.
"The hard part is getting the control," Karim said. "All these dogs bite. It's what they do."
Because they are often depicted bringing down suspects, the K-9s get an untrue reputation as mean and vicious, Karim said.
"The last thing we want is a dog to bite somebody," he added.
All the dogs are considered dual purpose, being trained to handle patrols and odor work.
Eiko, who works with Weber, is trained to detect explosives with a keen nose for 16 odors. The other four dogs are trained to detect narcotics based off of four odors.
One of a kind
Having the distinction of being the only explosives-trained K-9 for the MCSO isn't the only honor for Eiko. He is the only explosive trained K-9 in northern Arizona.
Part of Eiko's training included passive recognition. While narcotics-trained K-9s usually scratch at a detected odor, Eiko simply freezes his attention on the source of the smell.
"He has no idea he is dealing with explosives," Weber said. "All he knows is the odor."
They usually respond to 20 explosive material or device calls a year, Weber said. Last year they found two pipe bombs and one cell phone bomb, whose smell Eiko recognized from 20 feet away, he added.
Approximately 90 percent of their calls are for suspicious items, Weber said.
"If we know it's a bomb, we don't need him," Weber added.
The handlers dedicate one day a week together to train, though they are constantly training the dogs.
"Every single day, you train that dog," Karim said. "It's a big time commitment off duty and on duty."
The right approach
The handlers use a reward system with a toy to condition the dogs, Karim said. They also must find what training approach works best with each dog because like humans, dogs have their own personalities, he added.
"With the dogs, there is no one way to do it right," Karim added. "You have to find out what way is right and tailor training to each specific dog."
They utilize every opportunity to train the K-9s, Karim said. When they respond to businesses and do not capture a suspect, they often ask the owners if they can place a decoy in the building and quickly train capturing them.
"It benefits the business owners," Karim said.
Like knowing your own home, Karim said the experience searching the building will give the dogs an advantage the next time they have to search.
While the dogs have the mentality of a two-year-old, Karim compared their skill training to a professional athlete.
"If we let that dog go, their skills will diminish rapidly," Weber said.
That dedication and commitment is what sets the unit apart.
"You can't take any cop and say you're a K-9 handler," Karim said.
The handlers spend their time on and off the clock with their K-9 partners, including vacations, Sheahan said.
"The K-9 becomes a part of the family," he added.
That involvement requires more than acceptance by the handlers.
"The wife was very reluctant to have a dog," Ruiz said, "and now she loves it."
Special breeds
The dogs used by the MCSO come from Europe and are bred specifically for this purpose, Weber said.
It's that breeding that instills a strong drive - hunting, tracking, wind scent, prey and defense, Karim said. The dogs must have what it takes to do the job, he added.
"Play time to him (Ganto) means work time to me," Karim added.
Weber said he's looked at more than 50 dogs when finding the current K-9 unit.
"I want to get a dog that will sit the handler, his personality and field work," Karim said.
With the foreign dogs, come foreign commands. Each handler must master 20 commands in the language the K-9 was trained in, often German.
"The dog will go after a suspect and is so highly trained can deal with school children," Sheahan said.
The first task of the K-9 is protection of the handler, Sheahan said.
"That dog will give its life for the handler," he added.
That isn't their only benefit.
"The amount of time saved (on calls) is tremendous," Sheahan said. "It saves going through closets and furniture (looking for suspects)."
While people aren't often afraid of other people, Sheahan said they generally show respect and fear of the dogs.
"By and large, a suspect wants no part of a K-9, especially ours," he said.
That presence not only helps after an incident, but also before one even happens, Weber said.
Weber recalled an incident on March 17. Weber and Eiko responded to a suspect on methamphetamine who was yelling. While the man wasn't responsive to deputies, his attitude changed when Eiko was brought out, Weber added.
"He took one look at the dog and calmed down," Weber said. "That's how good these dogs are."
New member
Padilla is the newest member of the unit. Padilla said he always had an interest and when a position became available he jumped at the chance.
"I was used for a decoy and fell in love" with the K-9 unit, Padilla said.
Padilla already has experience with his K-9, Zelig, that he is proud of.
During September in Fort Mohave, the MCSO was searching for a suspect two and a half hours after an aggravated assault. Within minutes, Zelig tracked down the suspect in a field.
A couple of days earlier, Zelig assisted DPS in a traffic stop. After DPS stripped the car and found no narcotics, Zelig did a search of the car and found four pounds of methamphetamine in the front bumper.
"If he hadn't they would have released the car," Padilla said.
Of the more than 300 calls the unit received last year, more than 70 percent were for odor work: narcotics and explosives detection.
There is no typical day for the unit with each call leaving an impression on the handlers.
Karim was reminded of a recent call of two missing children near Chloride. What could have taken hours only took minutes with the help Ganto.
When he first was partnered with Ganto, Karim said they were involved with a 45-minute search for a suspect. Abandoning the search with no success, Karim was returning to his vehicle when Ganto practically pulled him off of his feet to a nearby bush where the suspect was hiding.
Significant impact
The K-9 unit has had a significant impact on the force, Sheahan said.
"All the other deputies really appreciate what we do and all the time we put in," Padilla said.
The K-9 unit also has a presence in the community, Sheahan said. The unit goes out into Mohave County in information settings as well. They go to schools and safety fairs teaching community members about the unit and skills.
The MCSO takes steps to ensure the safety of the dogs when left in the vehicle. The vehicles are equipped with heat sensors and alarms.
If the inside of the vehicle reaches 72 degrees, the air conditioner will come on if it isn't already and the windows roll down. In the situation where the inside of the vehicle reaches 90 degrees, the vehicle's horn will start honking. When left off, the engine will automatically turn on at 78 degrees.
The handlers are also equipped with alarms that alert them when they are too far from their vehicles with the K-9 inside.
The MCSO would like to add another handler and dog to the unit this year, Sheahan said.
"The dog is the only tool in law enforcement you can stop after sending it," Karim said.