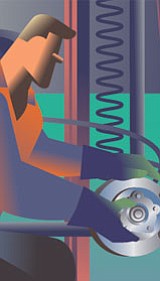 Originally Published: May 1, 2008 3:07 p.m.
To the editor:
When I was visiting in California a month ago, I heard a terrible noise coming from my brakes. We visited the neighborhood Midas shop and they told us we needed $690 work on the brakes that included a leaky drum and bad rotors.
Frankly, we didn't have the money, so we had them replace brake pads and we got home and parked the car. As we neared a time when we had to have the car, Larry remembered an article you ran in the Gazette about a Golden Valley mechanic shop where the mechanics were certified ASE. It was called Auto Repair.
So we stopped by and told him our story. They were extremely friendly and said we qualified for a GV discount for being part of the Valley. He totally made us feel like he wanted our business.
Well, to make a long story even shorter, they checked all the brakes and found that a pin had come apart in the brakes. The total cost was $76 dollars. They even told us that we still had plenty of life on the rotors and drum.
OMG, imagine an honest mechanic! They have all our business and I'm spreading the news to everyone I know. The bottom line? I went there because of the article you ran in the paper. Many thanks to you.
Linda Salazar
Golden Valley