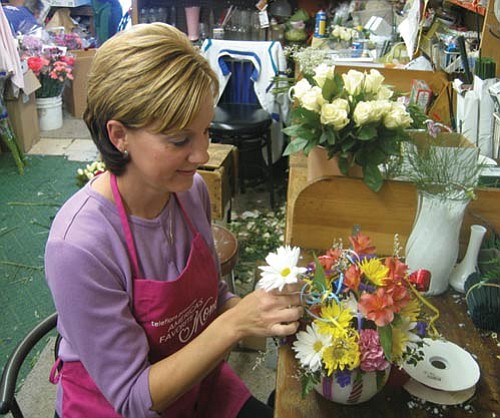 Originally Published: May 4, 2008 6 a.m.
KINGMAN - For those who were concerned by the Admin's Day article about florists, let it be known now - the Mandarin Orchid House is not pushing up daisies.
It is, however, undergoing a change in ownership. After 37 years serving the Kingman area, the mother-daughter team who ran the flower shop at 3137 Stockton Hill Road has finally retired.
But calling it a "retirement" fails to convey the significant role the florist has played in so many others' lives, through generations of weddings, funerals and countless holidays. It also downplays the truth of the matter, one that applies as much to life as it does to a floral arrangement - that both can be overwhelmingly beautiful, but also terribly fragile.
Marchetta Oneill, now 82, never aspired to the floristry in her youth and had no formal training in flower arrangement prior to opening her own business. The turning point came for her in the early 1960s.
"I was working for a furniture store, and they were going to go to market in L.A.," she said. "There's a big street down there, and it's nothing but flowers, flowers, flowers."
Enamored with Los Angeles' flower district, Oneill bought the Mandarin Orchid House from its original owner, Tommy Choy, in 1973 after her first attempt at running a flower shop in Kingman's downtown failed. The Orchid House's new owners opened the doors on July 5 of that year, the same day a boiling liquid expanding vapor explosion took the lives of 12 people in Kingman. Oneill and her daughter, Colleen Pethers, wondered if it wasn't a bad omen. The next three decades would prove it wasn't - Oneill can't recall ever having a dissatisfied customer.
Oneill's second daughter, Katie Grommon, joined the flower shop shortly after it opened, and over the next 35 years, each family member developed her own role within the business.
"We were like partners in every respect," Oneill said. "I did all the flowers, Katie did the billing, and Colleen kept the books."
It wasn't always easy, though. Through the years, the flower shop's tightly knit staff - family and non-family alike - weathered its share of turmoil and economic downturns. Oneill recalls one year where she and one other employee were left alone to tackle Mother's Day, the biggest floral holiday of the year. The two worked for 48 hours straight.
"There's been a lot of hard times," Pethers said. "But the rewards have been greater than the hard times."
Everything changed, however, when Grommon died of cancer two years ago.
"It pretty well tore this family apart," Oneill said. "It shocked us all."
Though Oneill, even at age 80, never wanted to quit the flower shop, but after Grommon's death, she found herself unable to work in a place where memories always threatened to reduce her to tears.
"It did me in," she said. "After she died, I couldn't stand to go into the shop."
At the same time, Oneill's health began to deteriorate as years of cigarette smoking took their toll, requiring Pethers to spend more time taking care of her and less time in the shop. With her sister gone, her mother ailing and she herself left with the burden of learning all three of their roles, Pethers knew the business had to change hands.
"I've been doing it pretty much alone for two years since she died, and I just can't do it anymore," she said. "It's time for (Oneill) to retire, and she won't retire until I retire."
Salvation came, as it often does, in an unusual form. For 14 years, Kathleen Scott managed two dentists' offices in Kingman, though she had harbored a lifelong dream of owning her own flower shop. As Oneill and Pethers privately began searching for prospective buyers, a mutual friend brought introduced them to Scott, who proved to be a perfect fit.
"That was a godsend," Oneill said. "She was sent to us."
Over the last 10 months, Oneill and Pethers have been teaching Scott the ins and outs of the business, hoping to slowly transition the shop's ownership without reducing the quality of service or expertise.
In some ways, Pethers said, Scott reminds her of herself.
"Kathleen's a note-taker, she's like me," she said. "We feel that she has talent. She has our gift."
For Scott, who officially took over April 17, the timing in her life couldn't be better, either. With her kids recently grown and moved out, she has the time and energy necessary to run the business, and more importantly, she loves doing it.
"I love the responsibility of owning my own business and making it my own," she said. "I've done dentistry for 24 years, and I'm ready for a new challenge."
With her first Mother's Day on the horizon, Scott is confident she'll be able to hold her own. She was quick to point out, however, that Oneill and Pethers are always just a phone call away when she needs advice, and all the old staff are still working for her.
"As I'm getting adjusted, (Pethers) is still coming in," she said. "The quality of the product is staying the same."
Oneill is happy she and her daughter found the right person to take over for them. But even so, she still tears up when she remembers making bouquets for three successive generations of weddings, pinning the flowers on customers at their own funerals, or hearing the joy in a person's voice at the sight of one of her floral arrangements.
"I'm just going to miss people, and it's been so satisfying," she said of her customers. "I would just like to say 'thank you.' Some were tears, some were laughter, but I enjoyed every one of them for 37 years. Thanks again."