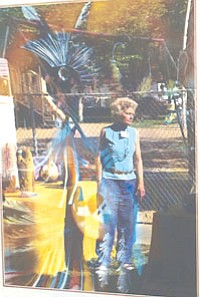 Originally Published: May 6, 2008 7 a.m.
A special event graces Mother's Day weekend in Kingman.
The 30th Annual Festival of the Arts is scheduled at Metcalfe Park in downtown Kingman. The event runs 10 a.m. to 4 p.m. May 10 and 10 a.m. to 4 p.m. May 11.
Admission is free.
In 1999, the Mohave Community College Foundation took over production of the Festival from the Mohave Artists and Craftsmen's Guild, a news release states. Sally Leibold with the guild worked hard to create a show that from a humble beginning has become a Mother's Day tradition.
The Festival is a family-oriented event providing quality arts and crafts to the community, educational art activities for children and a respite for mothers of all ages.
About 5,000 people normally attend over the two days of the event. Organizers expect 90 or more booths and 70 or more artisans/crafts people. Their exhibits will include paintings in all mediums (watercolor, oil, acrylic, etc.), art in stone, metal and multi-media forms, world-class photography, ceramics in every shape and size, handmade crafts from wood, fabric, metal, wax, gourds and plastic, and jewelry ranging from beadwork to fine pieces of silver, gold and precious stones.
Children may participate in free art activities called "Good art for mom" in which they paint a picture, make a ceramic pot, or decorate or create a wire wrap piece of jewelry for their mother.