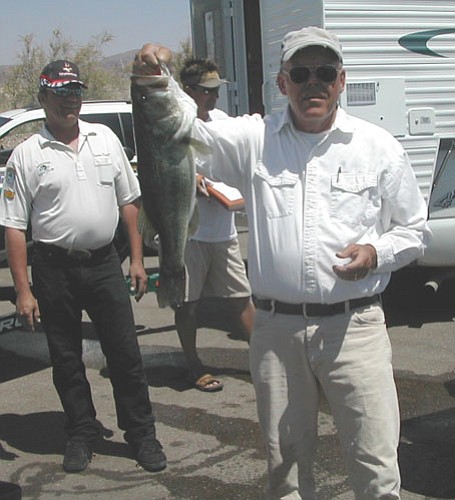 Originally Published: May 7, 2008 6:01 a.m.
KINGMAN - Proving once again that spending the time and doing pre-fishing always pays off, the team of Micah Jones and Scott Smith led wire to wire at the Kingman Bass Club's two-day fishing tournament at Alamo Lake.
Jones/Smith led the first day with a catch of 13.90 pounds, with a big fish that weighed 4.7 pounds.
Don Martin checked in the second big fish of the day with a lunker that weighed 4.10 pounds.
On day two, Jones/Smith brought in a smaller five-fish limit but still won the tournament by almost five pounds.
Their final tally for the two-day tournament was 21.47 pounds.
Jones reportedly had been on and off the lake for almost two weeks prior to the start of the tournament.
Art Fuller and Danny Lloyd made a big jump on the second day of the tournament to garner second place in the two-day event.
Fuller/Lloyd had a five-fish limit that weighed 5.65 pounds on day one but came back with a monster bag that weighed almost 11 pounds on Sunday. The tournament's big fish was caught by Fuller and weighed 5.61 pounds. Fuller/Lloyd's two-day limit for the tournament was 16.52 pounds
Greg Parker/Jimmy Jones won third place. Checking in a five-fish limit on the first day of the tournament that weighed 6.12 pounds, Parker/Jones brought in four bass that weighed almost 10 pounds on day two. The final tally for them was 15.84 pounds.
Parker/Jones had the second biggest fish on Sunday, a bass that weighed 2.98 pounds.
Depending on whom you talked to, the fishing was either very easy or very tough during the tournament.
Some teams claimed to have caught between 30-40 bass on Saturday, while other teams struggled to catch five fish.
Sunday proved to be another tough day for some of the teams.
Most of the bigger fish were caught in the flooded trees in the east end of the lake.
A plastic creature bait called a brush hog fished with no weight seemed to be the lure of choice for catching the larger bass. White spinnerbaits also caught a lot of fish.
Anglers noted that the lake seemed full of shad, the favorite bait-fish for the lake's largemouth, crappies and catfish.
Huge schools of the silver bait-fish were seen all over the lake and in the back of just about every major cove.
The next tournament on the KBC tournament trail is set for Saturday, May 10, at Temple Bar on Lake Mead.
The pre-fish meeting to draw for partners will be tonight in the conference room at the Region III office of the Arizona Game & Fish Department starting at 7.
All anglers, even those who do not own a boat, are invited to attend.