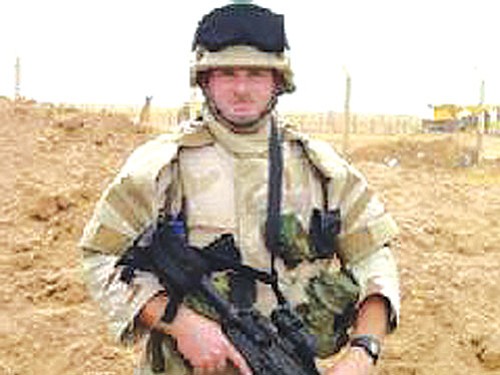 Originally Published: May 14, 2008 6 a.m.
GOLDEN VALLEY - Jerome S. Baker has been under fire numerous times during his 18 years in the Air Force, but Easter Sunday was the first time he was seriously injured in the line of duty.
"Jerry joined the Air Force in 1989 when he graduated from high school," said his mother, Cherie Baker of Golden Valley. "I'll never forget the day we drove him to the airport. It was our anniversary, Aug. 18."
His father, Scott Baker, said Jerry isn't one for calling home a lot, so they knew something was wrong when they received a call from him in the wee hours of the morning the Thursday after Easter.
"He said he was in the hospital, but it wasn't serious. He doesn't talk much about his experiences," Scott Baker said. "He was working as the head of security and the main driver for a Marine major general. That's pretty unusual. The branches of the military don't usually cross."
Jerry called to tell his parents he had been injured in a rocket attack near the U.S. Embassy in Baghdad.
"He's had close calls. On Easter Sunday, the compound was under rocket attack. If he and the major general had been in the car, they would have both been killed," Scott Baker said.
The rocket creased the hood of the major general's vehicle before destroying the windshield and driver's door, then blowing out the rear passenger window of a car parked alongside.
Jerry sustained a two-by-six-inch gash when a piece of shrapnel the size of a dinner plate hit him in the inner right thigh.
"He will have a hell of a scar," Scott Baker said. "If it had gone any deeper, it would have hit that big artery and he would have bled to death in minutes. He was very lucky."
An April 7 letter from Master Sergeant Donna Davis, vehicle operations supervisor, advised the Bakers of their son's pending Purple Heart ceremony.
"We wanted to send you the news articles of Sgt. Baker's Purple Heart ceremony," Davis wrote. "Thankfully, he is doing better and will be able to return to work soon. He's a very dedicated member and always wants to see the mission through to completion. If you ever need anything from us, please let us know! Thank you for loaning your son for the defense of the USA!"
An Air Force Print News Today article stated, "The hazards of 12 deployments finally caught up to one 18-year Air Force veteran. Tech. Sergeant Jerome S. Baker was awarded a Purple Heart for a wound suffered to his right thigh during a terrorist rocket attack near the U.S. Embassy in Baghdad's International Zone on March 26."
The article quoted Baker: "The initial pain was like somebody smacked you really hard - a burning sensation like a bad sunburn," he said. "I kind of looked down and saw my whole leg covered in blood and I said 'Oh, that's not good.' I knew it wasn't that bad, because I could bend my leg and wiggle my toes."
The article stated that Baker was proud to receive a Purple Heart, "but he's not looking for a free ticket home."
"It'll take a lot more than something like this to send me home. I've got my guys, my team. They are one person short. They've got a lot or work to do without me. It's not fair to leave my guys hanging like that."
The article also contained praise from his superior officer.
"Tech Sergeant Baker is a senior member of my PSD team and a great American," said General Robeson. "He keeps me safe, and I have the highest confidence in him. We look forward to having him back."
In the article, Jerry Baker is quoted as saying, "I think that it's very cool that I, an Air Force noncommissioned officer, got a Purple Heart while serving as a bodyguard for a Marine Corps general."
Cherie Baker said her son has always been very focused and is happy with his military career.
"He isn't sure if he'll retire in two more years or re-enlist," she said.
"If he retires, he already has a job lined up at Randolph Air force Base in Texas."
"Sgt. Baker is a proven warrior," said Lt. Col. Michael Washington, 56th LRS commander, in a written statement.
"We are incredibly proud of Sgt. Baker and are grateful he will recover and continue his duty in the fight."
Doctors released him to return to work on May 8.
More than 350 Luke airmen are deployed in support of operations around the world.
More like this story