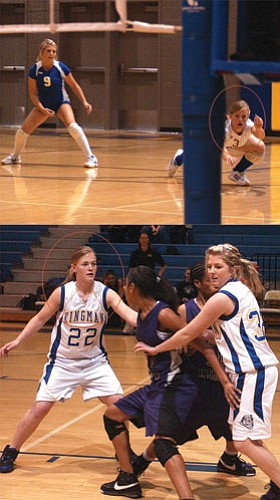 Originally Published: May 16, 2008 6 a.m.
KINGMAN - When Ashley Caswell receives her diploma from Kingman High on June 5, KHS will have huge shoes to fill with her departure. The shoes may be so big that they will never be filled.
Caswell was a starter and team leader for the Bulldogs' volleyball, basketball and softball teams. The three coaches for these teams readily agree that Caswell brought something to their squads that will have to be replaced.
Caswell was a role model on all three teams. The Bulldogs' former volleyball coach, Gena Schoen, said that Caswell was a coach's dream, and she gave her all every time she was on the court. Basketball coach Danny Gonzalez said that she never demonstrated a poor attitude for her teammates to see.
"She set an example that anyone would be proud of," softball coach Salina Fogg said. "It's not often another player can take constructive criticism from another player, but they respected and valued her opinion so much."
No matter the situation that Caswell's teams found themselves in, they could count on her to find the fun in it. Schoen said that Caswell was easy going toward her teammates and had the ability to laugh or make light of any situation.
"I can be a serious person, but not that serious," Caswell said. "There are people who play sports but don't have any fun. I do what I do to have fun."
Caswell's being a role model and her good nature combined to make a strong leader for KHS this year. For Schoen and the volleyball team, Caswell demonstrated to the team what it took to play at a high level. Fogg agreed that Caswell led by doing. Gonzalez pinpointed the qualities of Caswell's leadership.
"She's outspoken," he said. "She can communicate with any teacher, any player and any coach."
Though Caswell exhibited these exceptional virtues, she had to learn and grow from some past mistakes. Fogg was impressed with Caswell's turnaround after the 2007 softball season. During that season, Fogg said she felt Caswell had grown frustrated by situations that she couldn't control.
"We sat down and talked about that," Fogg said. "She came to understand that other coaches notice those behaviors, and it wouldn't matter how good she was because the attitude would be all they saw." The turnaround was complete this season, as Caswell worked extremely hard to just play ball, Fogg said.
Gonzalez said that during the basketball season he had to strip Caswell of her role as team captain due to a team infraction. "It was a learning lesson not only for Ashley but for the team as well," Gonzalez said. "They learned that nobody breaks the team's rules."
Shortly thereafter, Caswell approached Gonzalez about rectifying the situation. "She came to me and asked how she could get her role back," Gonzalez said. "She admitted that the team's rules were important and then gained her role back."
Gonzalez said that the team responded well to the situation. "It just made them stronger. It let them know that this was important."
Sports have played a major role in Caswell's life. Caswell said it all started when she played tee ball as a youngster. "I love the competition," she said. "The thrill of winning is good, it's a rush. Beating someone better than you is always good."
Caswell has enlisted in the U.S. Army and will train to be a member of the military police. She is shipping out on Aug. 12 to begin her career.
"As long as I don't think about softball, I'll be okay," she said.
"But, I will try to play some sort of softball."
Gonzalez believes Caswell will be a very productive member of society as an adult. "Her wanting to be a police officer so she can help people is just like what she did for our team."
Caswell will leave behind a legacy when she officially leaves KHS in June. It will be up to next year's crop of seniors on all three teams to try to fill the large shoes she leaves behind.