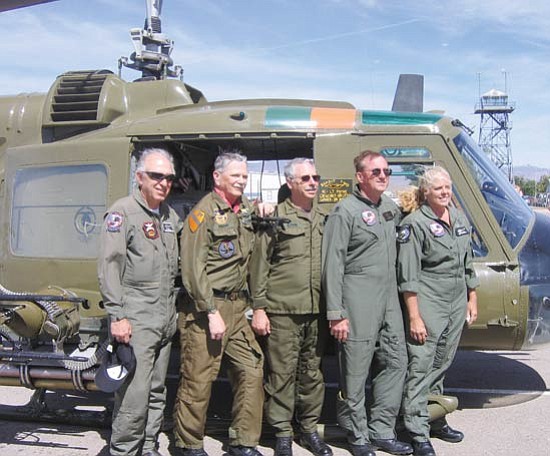 Originally Published: May 19, 2008 7 a.m.
KINGMAN - Members of Mohave County Chapter 975 of the Vietnam Veterans of America, led by chapter President Gene Crego, had the chance to reminiscence about old times Thursday at Kingman Airport.
A Huey helicopter owned by Wings & Rotors Air Museum in Murrieta, Calif., landed to refuel just before 9:30 a.m. Co-pilot Randy Zahn said the chopper was built in 1962 and was among the early models of the aircraft used in Vietnam, either as a gunship, troop carrier or medivac chopper.
Kingman Mayor Les Byram was among the first people on the tarmac to greet the five-member crew after the Huey's engine shut off.
"I found out about this (Wednesday) and am happy to come out to greet them," Byram said.
Mohave County Sheriff Tom Sheahan also welcomed the Huey crew.
"I'm here to say we appreciate their service to our country," he said.
"They've always had our support here and always will."
The Huey and two others like it, along with a smaller OH-58 helicopter, are part of a group called "Flying Thunder." Aircraft Cmdr. Carl Allen said his chopper would rendezvous in Fort Smith, Ark., with the other three helicopters. All are due to arrive next Thursday in Washington, D.C., at the Vietnam Veterans Memorial Wall, along with a sizable contingent of motorcyclists riding along Interstate 40.
The bikers, known as Rolling Thunder, are making their 20th trip to the memorial wall. The helicopters will fly above them during some portions of the trip.
The purpose of the cross-country journey is to raise awareness of all veterans, especially those who served in the Vietnam-era, Crego said.
"Rolling Thunder left from Rancho Cucamonga, Calif., with about 300 bikers," Crego said. "This is the first time Flying Thunder has done this."
Allen retired from the Army last year. Zahn flew Cobra gunships in Vietnam.
Shayne Meder, Van Ferry and Lou Rochat are other members of the flight crew. Meder is retired from the Air Force. She currently is the marketing director for the Wings & Rotors Air Museum and does maintenance on the Huey.
Meder said Ferry was a gunner and crew chief in Vietnam. Rochat is a retired Army officer who flew Cobra helicopters and now helps the museum in fundraising efforts.
Mounted on each side of the Huey, although non-functional, are three M60 machine guns and seven 2.75-millimeter rocket pods.
"We're happy to be part of this trip to Washington to fly to the wall and recognize our veterans," Allen said.