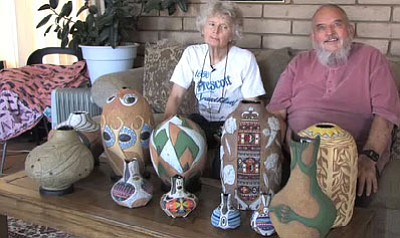 Originally Published: May 21, 2008 3:33 p.m.
kdminer.com video produced by J.C. Amberlyn
>Free QuickTime player required to view this video
Video length 3 minutes, 26 seconds
Sally Hare and Richard Leibold and 2008 Featured Artist Toni Bigelow talk about the life of an artist. Features scenes from the 2008 Kingman Festival of the Arts in Metcalfe Park, Kingman on May 10th, 2008. It was under the leadership of Sally Leibold and the Mohave Artists and Craftsmen's Guild that the Festival of the Arts began 30 years ago. Today the event is run by the Mohave Community College Foundation, Inc.