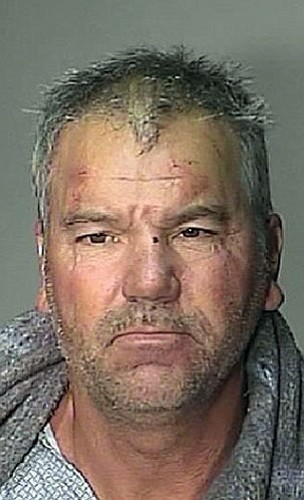 Originally Published: May 21, 2008 6 a.m.
KINGMAN - Mohave County Sheriff's Sgt. Doug Schuster certainly earned the award he received Monday from the state of Arizona. Schuster was presented with the Arizona Watercraft Officer of the Year Award during the Board of Supervisors meeting Monday "for his superior efforts in watercraft law enforcement."
In an ironic twist of fate, just two days earlier Schuster was involved in the capture of an escapee from a Colorado correctional center.
On Saturday, Schuster and Deputy Ed Trafecanty stopped a boat operating without registration and without navigation lights in South Basin on Lake Havasu, Mohave County Sheriff's Office Public Information Officer Trish Carter wrote in a news release.
According to Carter, deputies could smell alcohol on the breath of the boat operator. The man identified himself as Randy Perigen and admitted to drinking 12 beers.
The deputies asked Perigen to step on to their boat in order to complete some sobriety tests. As Trafecanty administered the test, Schuster leaned over the side of the deputies' boat to secure Perigen's boat. At that moment, Perigen dove at Schuster in attempt to get the deputy's gun, Carter wrote.
After a brief struggle, the deputies were able to pin Perigen to the deck of the boat before taking him into custody. During the struggle, Schuster was able to keep his gun in its holster.
Lake Havasu City Police officers responded to assist the deputies.
While deputies were navigating to shore, Perigen started to fade in and out of consciousness. According to Carter, Perigen blew a blood alcohol content of 0.150 during one of the tests. The legal limit is 0.08.
Lake Havasu City Fire Department and River Medical responded to assist in transporting Perigen to Havasu Regional Medical Center. After being released from HRMC, Perigen was transported to the county jail. While he was being booked into the jail, Schuster and Trafecanty found out that Perigen was really Mark Allen Bergenske, 49, of Desert Hills, Ariz.
According to Carter, Bergenske allegedly escaped from the Colorado Correctional Center at Golden in September of 2000 and was wanted on an escaped convict warrant.
"Both deputies acted extremely professional and did exactly what needed to be done," Sheriff Tom Sheahan said during Monday's meeting.
Bergenske was booked on two counts of felony aggravated assault on law enforcement and two felony counts of resisting arrest.
More like this story