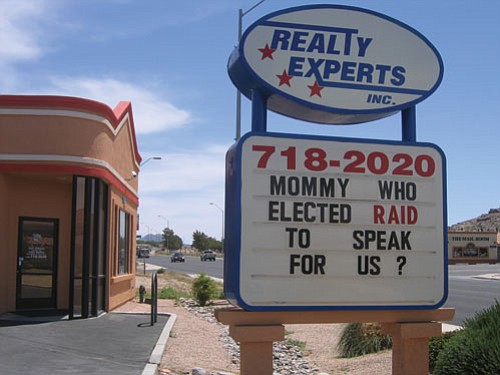 Originally Published: May 21, 2008 6 a.m.
KINGMAN - For the past year, the mayor and several City Council members have accused the government watchdog group Residents Against Irresponsible Development of not representing the community and of impeding local growth by challenging development issues.
On Monday night, the last full meeting of the existing Council, officials heard publicly from other people who shared the same sentiments about RAID.
The comments came during discussion of a rezone dispute over 24 acres at Airway Avenue and North Castle Rock Road.
Pacing in front of the lectern and speaking loudly enough that the crowd packed into Council Chambers could have heard without a microphone, area resident Baron Yankowitz laid into RAID for what he described as its use of scare tactics to impede the construction of a strip mall at the property.
He also questioned why RAID's view has held so much weight on local development issues.
"Why are the developers going through RAID to get this petition approved? We didn't vote for RAID. We voted for you," Yankowitz told Council.
He flashed a petition containing about 10 signatures of residents who opposed RAID, and he said, supported the owners' request for C-2 zoning, arguing that it would bring shopping convenience to the neighborhood.
Specifically, Yankowitz named Oil Can Henry's as a business he would like to see near his home. His house is one of the closest to the proposed development.
2 parties, 5 meetings
In the past several weeks, RAID, city staff and the owners of the Airway/Castle Rock property met five times to create a development agreement that would prohibit certain businesses both sides agreed do no fit into the residential area. The aim was to avoid another referendum.
RAID was successful in challenging the rezone after Council first approved it in 2006.
The group did not oppose the strip mall, but it believed C-1, "neighborhood convenience" zoning would have been better for the residential area. When the owners were unwilling to meet with residents to work out their differences with C-2, RAID gathered enough signatures to put the issue on the ballot. Voters overturned the request in November, returning the property to its original residential zoning.
When Tommy Short, John Short and Bill Bowers, owners of Short/Bowers Investments, came back recently for a second go-round, RAID again stood against the rezone request. The watchdog group argued that voters had already decided that C-2 zoning doesn't belong in the neighborhood and asked that the vote of the people be respected.
Instead of taking out another referendum, the two parties got together and worked on an agreement that would prohibit certain C-2 uses while respecting the public's opinion at the polls.
Redlined from the development agreement, specifically, were gas stations, service stations and automobile repair shops. Also removed from the C-2 zoning allowances were tattoo parlors. The approved zoning, in respect of the Nov. 7, 2007, vote, will not take effect until Nov. 5, 2008
The two parties didn't walk away completely satisfied, but they did find a consensus.
"We have an agreement neither side is fully embracing but both sides agree to," RAID member Marvin Robertson said.
Too much say
Speaking on behalf of the Short and Bowers families, Realtor Joy Brotherton thanked everyone involved in the negotiations, but she too noted RAID's power.
"I just don't believe there should be so much influence from one group," she told Council, adding that in the future she hopes elected officials will be more active in doing the work themselves.
Brotherton said property owners should not have to negotiate with private citizens who haven't been elected by the people, but she thanked the Short/Bowers group for meeting with RAID anyway.
"It shows a lot of class, as far as I'm concerned," she said.
Another area resident, Miguel Garcia, while admitting that he didn't know a lot about RAID, said "All the time when something comes up with growth, it's always negative, negative, negative," he said of the group. "We need to look at the positive."
Mayor Les Byram, as he had in response to Yankowitz, said again that he believed it was in the city's best interest to work out each party's differences rather than face another referendum.
"I still think that if the City Council can avoid a referendum that brings a lot of animosity, I think that warrants action," he said.
Sole RAID fan
Only one non-RAID member spoke up for the group, and that was resident Laura Cox.
Cox, who also lives near the proposed strip mall, described the location as "a lovely, quiet residential neighborhood. Residential," she emphasized. "And I don't think there is any place for the things that were removed (from the C-2 zoning list)."
She reiterated what many RAID members, including the group's president, have been saying since the Short/Bowers company brought back the rezone: With respect to the time and interest they dedicated, she said, "In another area that is not residential, it won't need that."
"We wanted C-1, not C-2," she said. "But we've used the democratic process and come to an agreement, and I'd like to see that more in the future."
Actually, RAID President Mike Bihuniak is hoping the message resonates with other developers who ask Council for commercial rezones in the middle of residential areas.
In the Tuscany Village strip mall on Eastern and Southern avenues, for example, residents were successful in swaying Council to deny the request because of similar concerns about businesses that would be allowed near their homes.
"The guy who owns Tuscany Village should go to school on this - meet with the residents there and work it out," he said Tuesday morning. "No, this isn't going to happen every time a developer wants to build something, but if he's coming in a neighborhood and it's going to impact their property values ...."
"If it's on Bank Street, I don't care. If it's on Stockton Hill Road, I don't care. If it's at Kingman Crossing someday, we don't care, but it doesn't belong where we live."
Speaking during the public hearing Monday, Bihuniak said he was in a "spirit of reconciliation." Of the Short/Bowers owners and RAID members, he said "Reasonable people can come to reasonable conclusions, and both sides did."
But to Yankowitz, who claimed that a RAID member had told him the group wanted to stop all development in Kingman, Bihuniak said, "That would be my wife. My wife did not say that, and I take offense to that."
He said after Tuesday that "They had the right to bash RAID if they wanted to, but I didn't like it when he accused my wife of saying we're trying to kill growth in this town, because that's an out and out lie."
"It's unfortunate," he said. "They had the opportunity to make the climate look like it's starting to smooth out in this town."