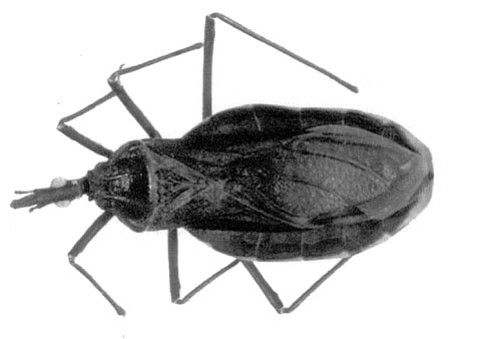 Originally Published: May 23, 2008 6 a.m.
KINGMAN - While you may not be in Africa, you'll have to keep your eye out for tigers this time of the year all the same.
The conenose bugs, otherwise known as the Hualapai tigers, are leaving their nests and flying about the Kingman area, said Rob Grumbles, county extension director for the University of Arizona Mohave County Cooperative Extension.
The vicious bugs are generally found in the outlying areas of the city from late spring through early summer, Grumbles said. Depending upon the monsoon season, they can stick around through the fall mating and looking for new nests, he added.
"We get a lot of people that bring them in and want to know what the heck are these," Grumbles said.
As adults they range from 1⁄2 to 1 inch in length. The bugs generally have a brownish-black, broad, flat body with six reddish-orange spots on each side of the abdomen. It has an elongated, cone-shaped head and slender beak.
Beyond what are the insects, Grumbles said he gets other questions from the public.
"They want to know how to get rid of them," Grumbles said, "but you can't. They are a native species."
The bugs are mostly found in Arizona, New Mexico, Texas and California. They usually make their homes in or near the nests of packrats or other rodents.
In suburban and rural Arizona, the insect is attracted to porch lights. At dawn, it looks for a place to get out of the sunlight and the heat. A favorite hiding spot is between mattresses.
To help prevent their infiltration, the Extension suggests sealing all cracks and openings into buildings. A bed net, tucked in, is the best exclusionary device to use while sleeping for those sensitized and at risk for anaphylactic shock.
At night, the bug ventures forth in search of a blood meal, which may be a sleeping pet or human. Also nicknamed the kissing bug, conenose bugs can cause life-threatening allergic reactions in sensitive individuals, a University of Arizona Cooperative Extension report stated.
Victims are usually awakened by itching, swelling, rapid heart beat or other reactive symptoms caused by the bite and not at the moment they are bitten. Bites are usually multiple and clustered on a single segment of the body not covered by clothing.
The most common reactions to the bite of the conenose bug are a redness of the skin, and intense itching, swelling or reddened patches. Small bites may disappear in 24 to 48 hours, while larger ones persist as long as one week, the report stated.
While treatment for the bites is usually unnecessary, the Extension suggests you contact Arizona Poison Control at (800) 222-1222, your primary care physician or 911.
For more information, contact the Extension, 101 E. Beale St., Suite A, at (928) 753-3788.