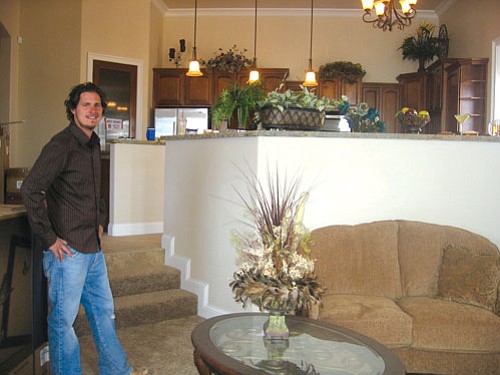 Originally Published: May 25, 2008 6 a.m.
KINGMAN - Six months ago if you were to go north on Stockton Hill Road, make a right onto Jagerson Avenue, then a left onto East View Drive, you would have found a field stretching far into the distance.
Today, that field still stands, though its days are numbered - Brian Kirby is seeing to that. Kirby is the project manager for Eagle View Estates, a subdivision currently under construction there. In December, when the Miner previously reported on Eagle View, the community was still just a vision shared by a pair of long-time developers, Eric Frye and Henry Neth. Now, however, the dream has become reality - a reality of energy-efficient living, state-of-the-art technology and contemporary luxury, all selling for competitive market prices.
Dust and noise chokes the air outside as Kirby leads the way into the first completed house, a bevy of contractors and workers still constantly filing in and out of the row of other houses all still in varying phases of construction. The house Kirby is displaying is a Ponderosa model according to Eagle View's Web site.
This particular model, one of eight, houses more than 2,700 square feet of livable space with three bedrooms and two-and-a-half bathrooms standard. It's one of Eagle View's higher-end offerings - this particular house is going for upwards of $500,000, though some models are priced as low as about $285,000, according to Eagle View marketing executive Jennifer Kirby, Brian's wife.
The covered entryway, a sort of cylindrical tower not unlike one you'd see on a castle, is also standard. Inside, Kirby shows off the living room's vaulted ceilings, then showcases the electric fireplace, noting the house's first major contributor to its energy efficiency spray-foam sealing.
"We've got spray-foam lid, insulated slab, spray-foam walls," he says. "The house is so tight, a little unit like this actually does a tremendous deal."
The kitchen, up a short flight of stairs from the living room, is stocked with Energy Star qualified appliances, which use 10 to 50 percent less energy and water than their standard counterparts. These appliances, Kirby says, are being made available to each of the homes that will eventually comprise the completed subdivision, some as options, some, like the refrigerator, standard.
Tricia Bakke is also in the kitchen, surrounded by paints and brushes. Bakke is a professional artist whose murals and paintings have adorned private residences and public buildings from Palm Springs to Kingman Regional Medical Center.
She's been hired by Eagle View Group to put her own touches on the project - while Kirby highlights the appliances, Bakke is delicately detailing each of the kitchen's electric wall outlets so that they're nearly indistinguishable from the surrounding counter space.
Before he pushes forward, Kirby stops to show off the house's lighting system, built for both comfort and efficiency. Several buttons built into the kitchen wall allow him to switch lights on and off or dim them into several different pre-programmed configurations for different mood effects or different times of the day.
"They'll do a standard program, so you hit this button, and what that'll do is, hypothetically, this light will shut off, this one'll dim, these'll shut off, this one will come on," he says.
But that's only a fraction of what the house's automated systems are capable of doing. Once everything is finally up and running, Kirby says, the owners of this home should be able to access any light in any part of the house from just about anywhere they have wireless access.
"You could put your bedroom light on from your TV," Kirby says. "You could actually do it from your office before you go home. You could say 'All right, I want my temperature set at 74 degrees, I want this light on, this light on, this light on,' you got it."
Kirby also notes those lights can be set to come on at 90-percent strength, barely noticeable to the eye but certainly noticeable on the electric bill. The water bill is taken into consideration, too - if the faucet springs a leak while the house's occupants are out, Kirby says, the automated system is equipped to deal with it.
"Within four seconds, it'll sense that leak," he says. "It'll shut your water main off, it'll text you, it'll e-mail you."
Down the hall, Kirby highlights the low-emissivity, or "Low-E" glass windows, which use a microscopic metallic coating to block the heat of the sun while allowing the light in. The window's frame, he says, will be the same temperature regardless of how hot or cold it is outside, reducing the amount of energy required to heat or cool the house. Beneath the floor, 24 inches of polyfoam seal covers the entire perimeter of the house's foundation.
"It creates a thermal break from the outside temperature," Kirby says. "Your ground temperature's never affected by the outside temperature. We will guarantee that you won't have a three-degree difference anywhere in the house."
Outside in a small courtyard central to the house sits an outdoor shower - another feature standard to Eagle View Estates. In fact, aside from a few concrete upgrades, some appliances and upgrades to the automated system, almost everything on display comes standard with the house: the double plumbing that recycles used water back into the house's landscaping, the hidden solar panels on the roof that help heat the house's water, even the nana walls - wall-length windows which can be entirely pulled away as if the wall was never there - are standard-issue for the models that accommodate them.
The movie theater isn't, however. Kirby concludes his tour, leading the way up a short staircase and into a nine-seat movie theater built into the house's midsection, just down the hall from the kitchen.
With three layers of sound barriers and insulation surrounding it, he says, about the worst you'd expect to hear from the kitchen or master bedroom would be a little base. A technician pops a Blu-ray demo disc into the projector and the wall-length screen is taken up by images of underwater life in high definition and surround-sound.
"I can honestly say it's the nicest theater in town," Kirby says.
Richard Iddings is a marketer working for Eagle View Group who has come along on the tour.
He says the draw of these houses is not merely the efficiency gained by utilizing green technologies but rather that they combine those technologies with what a homebuyer would find in a similarly-priced home.
"They're not asking their question of 'Well, why would I buy a green home when it costs so much more compared to some of the other homes in this community?'" Iddings says. "The price point of this home is right in line with all of the other master planned communities, but you just get so much more."
What's amazing to Kirby, aside from the houses themselves, is the speed his contractors have been picking up since ground was broken in December. With six models already up, along with one pre-sold house, Kirby anticipates filling the field at the end of East View Drive in as little as a year and a half.
"I've got 350 of these things going up in 18 months," he says. "Even by Vegas standards, almost impossible. It's gonna be incredible."
To arrange your own tour of Eagle View Estates or to learn more information about available packages, pricing or floor plans, call (928) 681-2401 or visit www.eagleviewaz.com. For sales information, call Wes Hassell at (928) 692-8244 or (928) 715-7653.