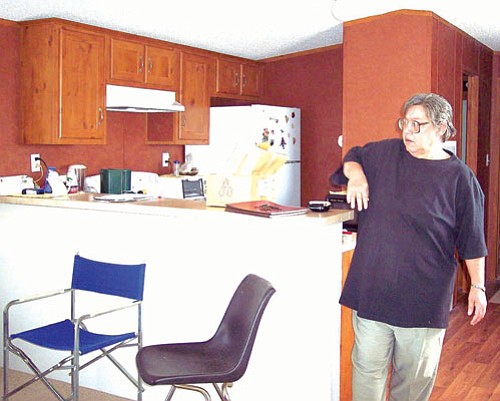 Originally Published: May 28, 2008 6 a.m.
DOLAN SPRINGS - The 2008 presidential election is a year of firsts, while Dolan Springs resident Norma Rupert is also breaking ground as Mohave County's first recipient of a new replacement mobile home.
According to Barbara Blythe, grants coordination specialist with the Mohave County Community and Economic Development Department, "Norma is the first under the new contract to be assisted and the first in this county to receive a new mobile home replacement."
The county's Housing Rehabilitation Repair programs are targeted to disabled, elderly and families with children under 18 with limited incomes.
Applicant income limitations vary by family size and program. A single applicant can earn between $12,450 and $33,100 per year, while a family of eight can earn between $23,450 and $62,450 to qualify.
"Norma is elderly and disabled," Blythe said. "She had a 1973 mobile home in which some of the floors had caved in and the aluminum electrical wiring had caught on fire in the service box. It was at the point where her life was in danger every minute she continued to live there."
The grant-funded housing rehab programs are designed to alleviate immediate health and safety issues in homes of low-income, elderly and disabled residents, she said. "Our goal is to help people stay, safely, in their homes when their alternative is to become homeless. Norma got onto our waiting list for our rehab program."
Applicants will be approximately six months or more on the waiting list before being called in for an interview, Blythe said. At that time, the county will determine which program is applicable - based on the repairs that are needed, income qualifications and in what area the applicant lives.
"Like everything else, the costs of mobile homes have increased," Blythe said. "We had looked at several used ones. But, of course, when buying a used one, there will still be a lot of repairs and replacements involved in bringing it up to code. We determined that refurbishing a used mobile for Norma would cost us around $37,000. Right now, our maximum amount of assistance is $40,000, based on one program.
"We work with Repo-Depot on Stockton Hill all the time with our mobile home replacement needs," she said. "They came across a company out of Texas that they worked with diligently in getting brand-new mobile homes at a reasonable cost - pretty much for the same individual cost as a refurbished replacement. We used Norma as a trial project to see if we could get a new mobile within our budget.
"We demolished her old mobile and brought in the new one," Blythe said. "We re-hooked up to existing utilities and put in the heating, cooling and skirting, as well as a handicapped ramp in the front and a landing in the back. The refrigerator, stove and appliances are all new and under warrantee. Everything is insured. The total cost is going to be between $37,000 and $38,000."
The state inspected the project and it was signed off on April 3.
"Because of the cost of propane, we put in an all-electric mobile," she said. "We are really happy with it. The project went very fast. We have been working with Repo-Depot since the inception of our program in 2000. Rose McCord, the owner of Repo-Depot, is just wonderful to work with. She has a really big heart and always goes the extra mile."
Residents need to apply and get on the waiting list, which is based on date and time, she said.
"There is a five- or 10-year lien requirement. We require a five-year lien on homes where we have put in less than $15,000 and a 10-year lien on each home we put in more than $15,000 in repairs. There is no interest and the residents don't have to pay anything. They just have to stay in the homes.
"We don't want to spend a large chunk of money and then have the owner sell the property for a profit," Blythe said.
"If someone passes away, a family member can continue to live in the home for the rest of the time period. If the home is sold prior to the lien period, a pro-rated amount must be paid back out of the sale. That money is returned to the state, not the county."
The county's rehabilitation programs are grant funded either through a Community Development Block Grant, the State Housing Fund or Housing Trust Funds.
"No property taxes are used for these services," she said.
"We are 100 percent funded through state and federal grants. We do the things that need to be done to keep people from being dislocated from their homes."
The primary focus of the assistance is to give residents "longevity in their homes," she said, "so they don't have to go into nursing homes or be put out on the street. We make Americans with Disabilities Act accommodations, repair heating, plumbing, etc."
To be eligible for the program, residents must own and occupy their homes.
Rentals do not qualify for housing rehabilitation. The owner must be a full-time resident who has a title or deed in his or her name as well as homeowner insurance and other required documents.
Assistance applications are available at the three Mohave County Community and Economic Development Department offices which are in Kingman, Lake Havasu City and Bullhead City.
Anyone who lives 20 miles or more away from one of these facilities can call and get an application mailed.
The three offices are: 700 West Beale St, Kingman, (928) 753-0723; 1355 Ramar Road, Bullhead City, (928) 758-0702; and 2001 College Drive, LakeHavasu City, (928) 453-0710.
"All cases are dealt with on an individual basis," Blythe said.
"What we can do will depend on where the applicant lives, what funding is available at the time, which program is applicable to the applicant and how extensive the needs are of the applicant.
"Now that we know we can go the new route with replacements and stay within our budget," she said, "I don't think we will ever want to put a used one in for that same price."