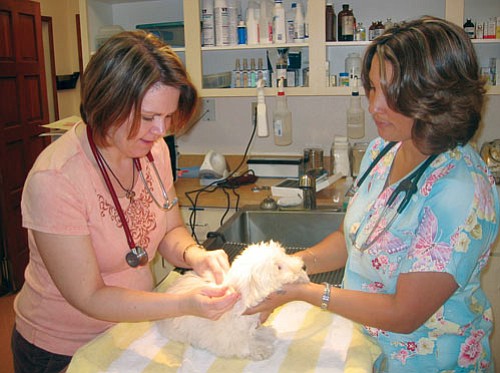 Originally Published: May 29, 2008 6 a.m.
KINGMAN - An especially virulent strain of parvovirus that originated in Europe now is striking dog breeds in America.
"We've noticed it over the past few months," said Erika Koenig, a veterinarian at Kingman Animal Hospital.
"There have been pockets of outbreaks for years, and it's highly contagious."
Canine parvovirus is the most common infectious disorder among dogs in this country, according to the Web site www.peteducation.com.
Parvo is characterized by diarrhea that often is bloody and caused by a pathogen called canine parvovirus, Type 2 (CPV-2). In 1980, the original strain of CPV-2 was replaced by CPV-2A and in 1986, another variation known as CPV-2B appeared. CPV-2B now has replaced previous strains as the most common isolate.
Koenig said Progard is a vaccine given to cross protect against parvovirus. But puppies need the shots every three weeks to gain the maximum measure of protection.
"Our recommendation is to start the parvo vaccine at four weeks of age and then at six weeks begin the combination vaccines (like 5-in-1 or 7-in-1) for parvovirus, distemper and other problems," Koenig said. "That shot should be given every three weeks until 16 weeks of age and then at 20 weeks the dog should receive another parvo shot."
CPV-2 has a higher mortality rate than other strains of parvovirus and treatment is expensive once the dog contracts it. The dog requires intensive care that costs thousands of dollars, she said.
Certified veterinary technicians Debbie Martinez and Ruby Duey were caring for dogs Wednesday at the animal hospital.
Martinez said she is typically seeing 6-8 cases of parvovirus per day now.
Duey said five dogs were hospitalized over the Memorial Day weekend with parvovirus.
Treatment for each is expected to cost $2,200, and there is no guarantee of survival.
Dap continuum, a high antigen mass vaccine, is recommended for adult dogs, Koenig said.
DA2PP (Distemper, Adnovirus, Parvovirus, Para influenza) is the combination vaccine recommended for puppies beginning at four weeks of age.
The PetEducation Web site states CPV-2 can survive on objects like clothing, food pans and cage floors for up to five months under certain conditions. Insects and rodents also may carry the virus.
Many adult dogs show few, if any, symptoms following exposure to parvovirus.
The majority of cases seen have been among dogs under six months of age with the most severe cases among puppies younger than 12 weeks.
Symptoms may include diarrhea, vomiting, dehydration, dark or bloody feces, fever and lowered white blood cell counts.
Rottweilers, Doberman Pinschers and Labrador retrievers are breeds especially susceptible to CPV-2.
"Rottweilers, Labradors and pit bulls have a familiarity trait in which they don't respond to the vaccine as they should, so they're more susceptible," Koenig said.
"Rotties need the vaccine every six months, even as adults."
Adult dogs that have never been vaccinated for parvovirus should be, including booster shots, Koenig said.
A call was placed to Cerbat Cliffs Animal Hospital.
Receptionist Brandy Mitchell said personnel there have not seen any cases of the new strain of parvovirus among dogs fully vaccinated.