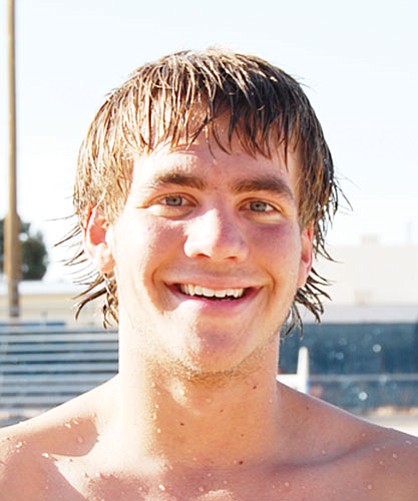 Originally Published: May 30, 2008 6 a.m.
KINGMAN - The Kingman Dolphins Swim Team emerged from the Desert Storm Memorial Day Swim Meet in Las Vegas over the holiday weekend with a solid foundation to start the summer season.
Brady Cowin was the big winner for the Dolphins in the boys 8-and-under division. Cowin won the 50-meter backstroke in 48.61. Cowin also placed third in the 50 breaststroke, 50 butterfly and 100 freestyle.
Cowin wrapped his meet up with a fourth-place finish in the 50 freestyle. As a result, Cowin came away with third place overall in total points in his division.
"He's hardcore," assistant coach Tanja Gromala said. "He would do double practices if we let him."
Cowin isn't alone in his division, as teammate Kyle Juelfs recorded five top-10 finishes at the meet.
Patrick Webb stood out for the Dolphins in the boys 11-12 division. Webb recorded seven top-10 finishes, including three fourths. It was in the 200 freestyle, 100 butterfly and the 200 individual medley that Webb finished fourth.
Shane Hall and Chris Workman led the Dolphins in the boys 13-and over division. Hall recorded three ninth-place finishes, and Workman snagged a sixth and seventh-place finish. "Shane's swims were outstanding, as he had no training behind him," head coach Russ Eidman said. "Shane's a multi-sport athlete, and if he focused on swimming, he could swim in college."
"I performed a lot better than I thought I would," Hall said. "I dropped some times and placed well."
Eidman also pointed to the swimming of Hunter Workman and Amy Webb. "It was a good meet for Amy," Eidman said. "It was the first meet in over a year that she improved time because of her shoulder injury. She was able to swim pain-free."
Eidman said that the Dolphins have only focused on skill work of late, and that he was pleased with their performances because they had lacked conditioning work before the meet. "Most of them were able to beat their own times anyway," he said.
The Dolphins will hold their annual intra-squad meet, the Blue and White Meet, at 8 a.m. Saturday at Centennial Park.
More like this story