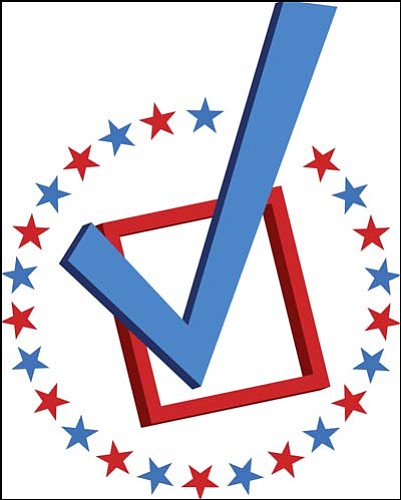 Originally Published: November 2, 2008 6 a.m.
KINGMAN - Candidates, proposition supporters, pollsters and pundits are all waiting for Tuesday evening when election results for 2008 will finally be tallied and released. But before there can be results, voters have to vote.
The Mohave County Elections and Voter Registration departments offer the following tips for the big day on Tuesday.
The polls are open from 6 a.m. to 7 p.m. on Election Day. Elections officials assure voters that anyone standing in line at 7 p.m. will be able to vote.
Voter Registration Supervisor Kim Stewart doesn't expect the lines to be long at the polls Tuesday.
"We haven't had that happen in at least 20 years," Stewart said. The county usually has more then enough voting machines to avoid having voters stand in line for very long, she said.
The Voter Registration and Election departments suggest that voters looking for shorter lines visit the polls between 9-11 a.m. and 2-4 p.m. This way voters can avoid the rush on their way to work, to lunch and on the way home from work during the day, Stewart said.
"Remember, employers must allow you to leave work in order to vote," she said.
The Mohave County Elections Web site has a list of polling places; go to www.co.mohave.az.us, click on "Departments" and then click on "Elections." The link to the polling places will be on the left hand side of the screen.
Still can't figure out where you're supposed to go on Election Day? Voter Registration may be able to help you out at (928) 753-0701.
Bring a cheat sheet with you to the polls. Voters will find a proposition cheat sheet inside today's Miner. Or use the sample ballot that was mailed out to residents recently.
"Voters are more than welcome to bring a cheat sheet to the polls," said Voter Registration Supervisor Kim Stewart. "Just make sure you take it with you when you leave and try to keep it inconspicuous. You may not want others knowing how you're going to vote."
Other items voters will need to bring to the poll include a photo ID, such as a driver's license with your current address. If voters do not have a photo ID, they can bring two different utility bills, a bank statement and utility bill, or their vehicle registration and a bank statement or bill with their current address. The bills and statements must be dated within 90 days of the election.
If a voter does not have a form of ID that matches with the voter records, they will vote a provisional ballot. The voter then has three days after the election to bring in proof of ID to the Voter Registration or Elections Department in order to have their vote count.
Candidate or proposition supporters may want to leave their campaign T-Shirts and buttons at home or in their cars when going to the polls. Campaign literature and other items that obviously support a particular candidate or issue are not allowed in polling places.
For more information on the candidates, visit www.kdminer.com.