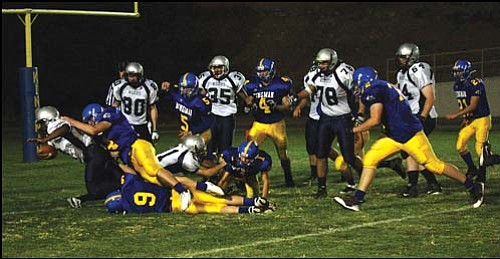 Originally Published: November 2, 2008 6 a.m.
KINGMAN - A missed coverage assignment on Surprise Willow Canyon's first play from scrimmage was a sure sign it would be a long night for the Kingman High football team Friday. That proved to be the case as the Wildcats pushed the Bulldogs all over the field for a 48-7 win at White Cliffs Middle School.
Willow Canyon (6-3, 3-1) quarterback Trey Clarida was able to draw the Bulldogs' defensive secondary in on a play action pass and hit wide receiver Jordan Goliat for a 50-yard scoring strike with only 37 seconds run off the clock.
Just three minutes later, Willow Canyon sophomore running back Garrick Shelton scored from the KHS (2-7, 0-4) 1-yard line to make 14-0.
Willow Canyon mustered up 519 yards in total offense as the Wildcats' massive offensive line controlled the trenches throughout the game.
"I threw the kitchen sink at them," KHS coach Jamie Nelson said. "They were just so big."
Shelton was able to break through the Bulldogs' defensive line so often, the three leading tacklers for KHS were out of the secondary. Steven Demoruelle finished with eight tackles, and G. Herrera and John Scott each had seven for KHS.
Willow Canyon poured it on in the second quarter with three touchdowns to take a 34-0 lead into halftime. Shelton finished with three rushing touchdowns and Clarida threw for three.
KHS' offense struggled for most of the game, but did manage 225 yards in total offense with seven first downs. "We tried to go wide, but their safety would come up and make the stop," Nelson said.
The Bulldogs' difficulty in moving the ball was so apparent, it took some Halloween trickery for them to get on the scoreboard.
With five minutes left in third quarter, KHS halfback Shawn Bonfield took a pitch from Herrera, playing quarterback for the injured Scott, and it looked as if the play was a sweep. Wideout Andrew Thibodeau was able to get behind the Wildcats' defense, and Bonfield hit him for 67-yard touchdown play. Deryck Campbell followed up with the extra point for KHS.
The Bulldogs found themselves shorthanded as three starters were dismissed from the team due to violations of team rules. With the size difference between the teams already a disadvantage for KHS, losing three key players made things more difficult.
"When it comes to athlete-to-athlete matchups, we don't have that one athlete that stands out like the other teams do," Nelson said. "Because of that, we have to play flawlessly and we haven't done that."
KHS ends its season Friday in Surprise against Valley Vista (3-7, 1-3).