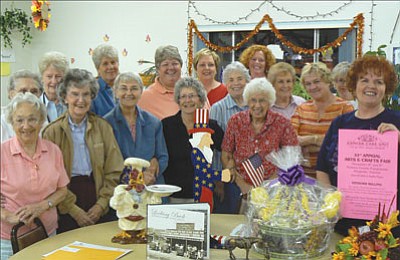 Originally Published: November 7, 2008 6 a.m.
The 33rd Annual Arts and Crafts Fair will be Saturday from 9 a.m. to 5 p.m. and Sunday from 9 to 4 at the Mohave County Fairgrounds.
More than 150 vendors will have their arts and crafts items for sale .
The Kingman Cancer Care Unit was formed by a dedicated and compassionate group of citizens to help people in the Kingman and the surrounding area in their fight with cancer. This dedicated group of volunteers has been providing help to their neighbors for more than 33 years.
Most of the volunteers have been affected by cancer in their personal lives, either with a spouse, a parent, a sibling, a child or a dear friend. They know first-hand the devastating affect cancer can have on the patient and the family. Their mission is to provide financial aid and moral support to the patient and their family.
The Kingman Cancer Care volunteers provide local transportation to doctors' appointments and treatments. Financial assistance is available to patients with travel, food and hotel accommodations. Health equipment (wheelchairs, walkers, etc.) and personal equipment (wigs, prosthesis, etc.) are also items they help provide.
The unit is a 501C non-profit organization. The Kingman Cancer Care Unit is not affiliated with any other cancer organization.
All of the money raised is used to help patients in the area with their financial needs.
The local unit does, however, make a donation each year for cancer research to the University of Arizona.