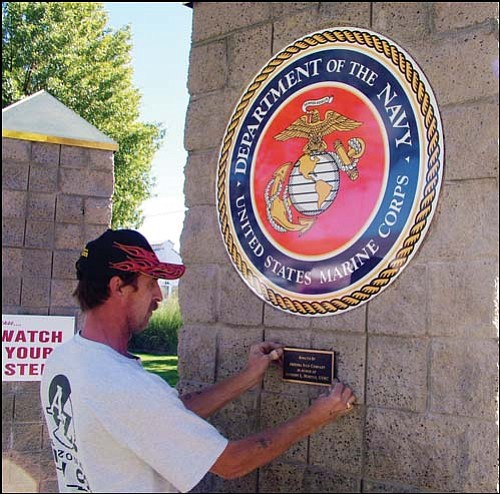 Originally Published: November 12, 2008 6 a.m.
KINGMAN - The Kingman Veterans Memorial, located in old town's Locomotive Park, is rapidly becoming a completed project.
Employees from Arizona Signs donated their labor and time to install the anodized metal pillar caps, the 36-inch medallions, the 4-by-6-inch bronze donor plaques and the solar lighting that will illuminate the American flag when it is flown during hours of darkness.
The only thing that remains unfinished on this four-year-long project is to purchase the five benches that will be strategically placed around the memorial. There was a Kingman Memorial Remembrance Ceremony on Tuesday.
The memorial was designed and constructed to honor all Mohave County servicemen, past, present and future. The idea of the memorial came about through the dedicated efforts of the Kingman Veterans Memorial Foundation members and retired United States Marines Jerry Ambrose and Chuck Chlarson.
The memorial is located in Locomotive Park in downtown Kingman. It has a medallion and pillar to commemorate each of the military services.
"It's been a long road to get the memorial completed," said Ambrose. "Without the support of many fine people, organizations and businesses, the memorial would not have come about."
According to Ambrose, once the memorial is completed, it will be turned over to the city of Kingman Parks and Recreation Department to maintain it.
Arizona Signs purchased the Marine Corps medallion; Brown Drilling purchased the Air Force medallion; the Gordon Family and FCG Logistics LLC purchased the Navy medallion; Lynda and David French purchased the Army medallion; Jerry and Elizabeth Ambrose, Chuck and Lea Chlarson and Loren Inc. purchased the Coast Guard medallion; and retired Marines Gunnery Sgt. Kristiea Jones, Master Sgt. Earl Jones and Gunnery Sgt. Butch Meriwether purchased the Merchant Marine medallion.
Other businesses and organizations that contributed and made the memorial a reality include Dean W. Reiter Detachment 887 of the Marine Corps League, Rotary Clubs of Kingman, Desert Construction, K&L DC Concrete, Zorn Masonry, True Value Hardware, Arizona State Prison - Kingman, and Hoffman Pumping.
Anyone interested in donating to the Kingman Veterans Memorial should contact Ambrose at (928) 607-3397.