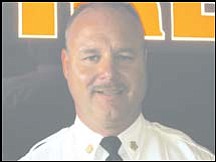 Originally Published: November 19, 2008 6 a.m.
KINGMAN - The final act of the current Northern Arizona Consolidated Fire District Governing Board was to accept the resignation of Chief Wayne L. Eder.
In a unanimous vote at the special meeting on Tuesday, the board accepted the resignation and approved the termination of the employment contract with Eder effective at midnight on Friday.
In the vote, the board also approved paying Eder his salary through Jan. 4 and his accrued compensation time.
The extended salary payment aligns with the 60 days notice given by Eder on Nov. 5 in a resignation letter to the board.
The board decision was made after an approximately 30-minute executive session where Eder aired his concerns under the new board, board chairman Jimmie Bodenhamer said.
The decision was made to give Eder an opportunity to leave the position with dignity and to turn over the reigns to the new board, Bodenhamer said.
"It is my opinion as chairman that in Chief Eder's five years as chief of NACFD No. 1, he has made outstanding improvements to the district in updating of equipment; improvement of training, especially in the EMT area; expansion of service to taxpayers, like paramedic squads; and growth of the district," Bodenhamer said.
"He should be proud of his accomplishments, as I am."
The board hired Eder five years ago, when the rural fire district was called Hualapai Valley Fire Department. The HVFD merged with the Valle Vista Fire District in 2007.
Later, the newly merged district consolidated with the Chloride and Truxton fire districts. The consolidation included providing fire services to the U.S. Department of Interior, Bureau of Indian Affairs, Valentine and Peach Springs.
The district boundaries cover about 65 square miles.
Under Eder, the district has gone from two fire stations to eight fire stations and one contract fire station. The current board approved a new fire station for construction in Hackberry.
The increase in stations and budget led to 18 full-time firefighters at Eder's arrival to more than 75 firefighters now.
A huge resource for the district and funding for most of the vehicles has come from grants. In the last three years, the district received more than $4 million in funding.
While the district has saved money on apparatus and equipment through grants, they have also saved money for the taxpayers. While county-controlled property assessments have risen, the NACFD has dropped their tax rate from $2.95 per $100 in 2005 to $2.88 per $100 in 2007.
Eder did not have a comment following the meeting and his letter of resignation was not released to the Miner by publication deadline.