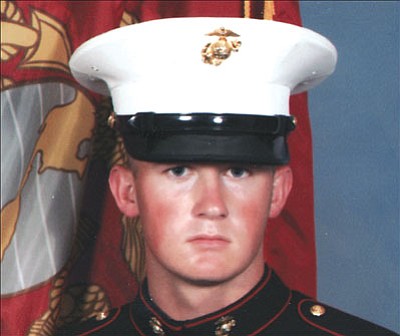 Originally Published: November 22, 2008 5:58 p.m.
Pvt. Dustin Dobbyn graduated from Marine Corps Recruit Depot Boot Camp on Nov. 14 in San Diego. Dobbyn, 18, attended Kingman High School before leaving early to enlist on Aug. 18. He moved to Kingman in 1990 and lived with his parents, Annie and Glenn Williams. He has two younger sisters, Amanda and Rebecca Williams. Dobbyn will go on to advanced training at Camp Pendleton in San Diego after spending a few weeks in Kingman.
On Nov. 20, Dobbyn married Jennifer Lucero, with whom he has a eight-month-old daughter, Sophia. After advanced training, he will go on to Chesapeake, Va., for specialty training to work as security forces.