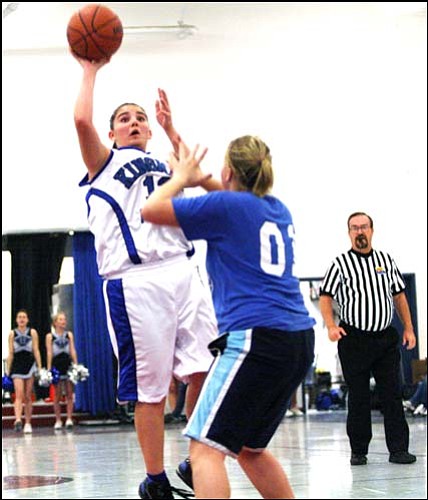 Originally Published: November 27, 2008 6 a.m.
KINGMAN - Behind the strength of a game-opening 16-0 run, the Kingman Academy High girls basketball team won its 2008 inaugural game 71-17 over Golden Valley EAGLE Academy Tuesday in the Betty Rowe Gymnasium at KAHS.
The contest was also the first game in the Charter Athletic Association North League for the Tigers, the defending league champions. KAHS picked right up where it ended last season, when the Tigers went 17-2 and finished third in the CAA.
KAHS had a 16-3 lead after the first quarter behind junior Ashley Nolte's six points. Nolte was high scorer for the Tigers with 12, most coming after steals that she converted with layups. "Ashley is faster, and her dribbling is better," KAHS coach David Scroggins said. "Her crossover was working for her."
Stephanie Weyermiller, a 6-foot-1-inch freshman, finished with 10 points with her inside presence. The Tigers' five freshmen combined for 23, which included Jill Collins and Miranda Ramirez with four, Juliegh Long's three and Cassie Richardson with two. "It was good that our freshman got a lot of playing time," Scroggins said.
KAHS is known for its full-court pressure in the CAA, but the Tigers were limited in the time spent on their forte. "I would have liked to press more," Scroggins said. "It's hard to do that with this score."
Jordan Book led other scorers for the Tigers with eight, and Mariah Wilson racked up seven. KAHS had five additional players with four each - Holly Young, Kayla Julien, Alex Rodriguez, Sarah Payne and Laura Barnes.
The Tigers were effective in the defensive side of the floor, evidenced by the Eagles' 17 points. However, Scroggins did see at least one area that needs improvement. "They were able to pull our zone apart," he said. "We'll work on that."
Though the game went smoothly and easily for KAHS, free-throw shooting could be another issue. The Tigers as a team only shot 4-for-11, or 36 percent from the line.
KAHS will take on another flock of Eagles Dec. 5 when the Tigers travel to the metropolitan area to play West Phoenix High.
More like this story