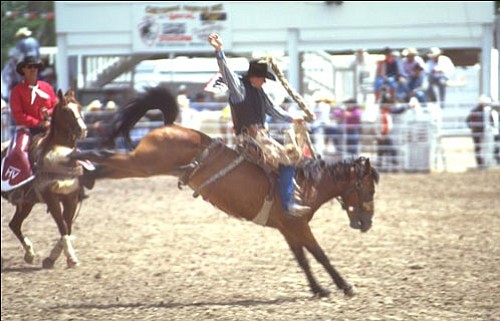 Originally Published: October 6, 2008 6 a.m.
PRESCOTT - The newly created Arizona Rancher and Cowboy Hall of Fame was introduced to the public Sept. 13 at the Phippen Museum, during which 11 rodeo cowboys, ranchers and working cowboys were inducted as the original honorees.
Ceremonies were during the museum's fourth-annual Fall Gathering and Barbecue, a celebration of the West, and specifically the ranching and rodeo communities.
Rodeo cowboys included Dale Smith, Chuck Sheppard, Everett Bowman and Mike Stuart. Frank Banks and Jim Miller were the first working cowboys inducted.
Ranchers inducted were Col. William Cornell Greene, Harold James, John G. Babbitt, Henry Boice and Dan Fain.
To qualify as a nominee to the Hall of Fame, rodeo cowboys must have participated in numerous prestigious rodeos and have left a lasting impact on the world of rodeo cowboys.
Ranchers must have been the operator of an outfit that ran quality cattle, and have left a legacy of respect in their community.
Working cowboys must have worked as a cowboy, foreman or manager of a prominent ranch and have gained the respect of their peers in the community and the ranching industry.
The Phippen Museum on Highway 89 just north of Prescott is the only fine art museum in northern Arizona dedicated solely to Western art. Museum hours are from 10 a.m. to 4 p.m. Tuesday through Saturday and from 1 p.m. to 4 p.m. Sunday.
For more information on the Arizona Rancher and Cowboy Hall of Fame and the Phippen Museum, call (928) 778-1385 or visit www.phippenartmuseum.org.