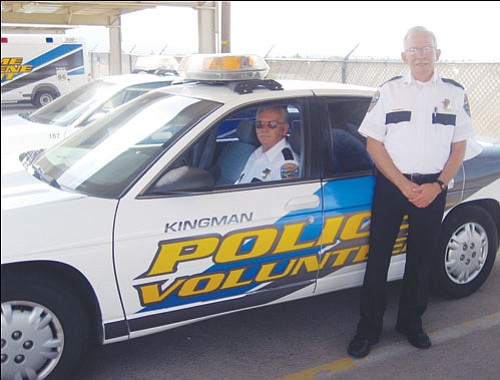 Originally Published: October 6, 2008 6 a.m.
KINGMAN - Nearly two years after it was started, the Kingman Police Department's Volunteers In Policing program is still rolling.
The group of 11 Kingman residents who have volunteered for the program have been instrumental in helping free officers for more serious crimes.
The volunteers patrol the city in their own specially marked cars, keeping an eye out for parking violations and suspicious activity and checking on homes for residents on vacation.
They also assist officers with controlling traffic at accident and crime scenes, help with parades, monitor the speed of vehicles in neighborhoods and handle other duties.
The most frequent problem the volunteers run into is parking violations.
"You wouldn't believe the number of people who park illegally in handicap parking spots," volunteer Wayne Harden said as he cruised the parking lot of a local store and pointed out a vehicle without handicap plates.
Volunteer Coordinator Ray Turner hopped out to check and see if the vehicle had a window tag: It didn't, and another vehicle parked nearby didn't have one, either.
Vehicles parked in handicapped parking spaces must have a handicap license plate or a tag for the window.
Many times, it's just someone running in and out of a store, and they park in a handicapped spot. Other times, it's someone from out of state who's passing through and just doesn't care, Turner said.
Both vehicles got written warnings.
Vehicle owners often leave their window tags setting on their dashboards or tucked between the windshield and the dash or even on a seat. This makes it difficult for volunteers and officers to determine if the tag is valid.
"Sometimes they cut the expiration date off the bottom of the tag," Harden said. "Then you have an altered tag, which is also an offense."
"I could spend eight to 10 hours a day just writing warnings or citations for this," he said.
Yes, according to Arizona law, volunteers can and do write parking citations. Turner said they usually reserve the parking tickets for the repeat offenders.
"The idea is to change people's behavior," he said. "You treat them they way you would like to be treated."
All it usually takes is a few written warnings before people starting getting the hint.
As Harden pulled into another store parking lot, an employee gathering carts walked up to the car window.
"Yea! I was hoping you'd come around," the employee said. The store had gotten a couple of complaints about an SUV parked illegally in a handicap spot.
Another big written warning generator is vehicles parked on sidewalks in neighborhoods.
"I think some people forget that we are no longer a rural community," Harden said.
Harden and Turner pointed out a couple of areas where vehicles parked on sidewalks had been a particularly bad issue. A few weeks of written warnings later, and cars were parked neatly against the curbs instead of on the sidewalks.
Harden said the volunteers give a little more leeway to vehicle owners on some of the more narrow streets in town. In those cases, volunteers have to decide whether the flow of traffic or the sidewalk is more important.
Both volunteers have had confrontations with vehicle owners who were upset about getting a citation or warning. If things get too heated, volunteers call for an officer.
Besides parking violations, volunteers also help the department with property watches. Residents can fill out request for an officer or volunteer to drive by and check on their homes while they are on vacation. With the number of second homes in the area, the department has had to limit the number of days for a property watch to 60.
The department recommends that residents requesting property watches leave a key with a trusted neighbor. Occasionally, volunteers will come across an open window on a property watch. If the door is locked and there isn't a neighbor with a key, the only way in is by breaking down a door.
Turner also reminds neighbors looking after homes to lock the door behind them. When a volunteer or officer comes across an unlocked door, they have to call it in, which requires two police officers to come to the home and check it out.
The volunteers help officers secure crime and accident scenes, and they direct traffic. This allows officers to concentrate on the crime or the accident, instead of worrying about traffic. Volunteers also carry equipment, such as water, flares and fire extinguishers in their vehicles in case they are called to an accident.
Volunteers also help with clerical duties, such as gun dispositions and taking evidence to the crime lab in Lake Havasu City.
"One 'thank you' is all it takes," Harding said. "It's all most volunteers need to feel appreciated."
And the volunteers do get lots of thank-yous from residents, store owners and KPD officers.
But what the VIP program really needs is more volunteers. The department would like to increase the number of volunteers to 20. The department encourages anyone interested to apply, especially younger residents.
To volunteer, residents must be 18 years old, fill out an application and go through a background check and training.
The experience can be very helpful for someone looking to move into a law enforcement career. For more information, contact the KPD at 753-2191.