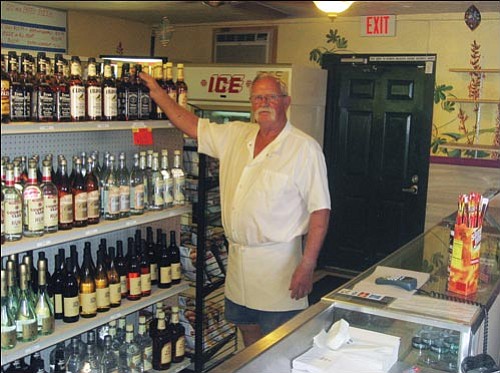 Originally Published: October 8, 2008 6 a.m.
GOLDEN VALLEY - A culinary fixture in Golden Valley, Vince's Pizza and Ribs has made its reputation off its broasted chicken, its barbequed brisket and, of course, its pizza and ribs.
Now, however, the restaurant at 4095 Highway 68 is hoping to branch out into a more "potable" market, with Golden Valley's first drive-thru liquor store, 68 Liquor.
Over the past several months, proprietor Vince Steinhoff has converted the seating area of Vince's Pizza and Wings into a liquor store, while converting the restaurant itself into a "drive thru-only" business.
Customers still can order their favorite foods. Now, they can pick up some beer or other alcoholic beverage at the same time.
68 Liquor has a wide selection of beers, wines and assorted liquor, as well as mixers and tobacco products.
"There wasn't a liquor store down here in Golden Valley," Steinhoff said.
He noted that while a gas station up the street also recently received a liquor license, 68 Liquor's prices remain among the lowest in the area.
"I think we're the cheapest in town," he said. "We're pretty much competitive with Wal-Mart."
Due to popular demand, Steinhoff also has revived some of the restaurant's menu items that were dropped when remodeling began in June.
"People have been calling and asking for it," Steinhoff said. "Our spaghetti's on special Monday and Tuesday, and Wednesday and Thursday we're going to bring our barbecued brisket back, because they want it."
Steinhoff acknowledged that times have been tougher than usual in the valley, especially with the national economy in dire straits. But where other businesses have failed, he hopes his diversification will keep his afloat amid rough seas.
"The economy's really bad right now, and a lot of people are going out of business," he said. "But we're hanging in there."
For questions on menu items or stock, or to place an order for pick-up, call (928) 565-5959.
More like this story