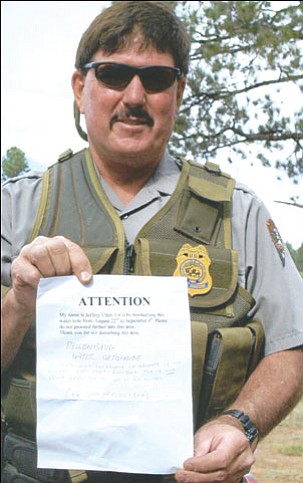 Originally Published: October 8, 2008 6 a.m.
Trail cameras being stolen or destroyed, notes posted claiming waters, vehicles blocking access to hunting areas, tree stands vandalized or stolen - the list goes on and on.
Sportsmen just keep getting a black eye with the public, as more and more incidents of unethical - or in some cases, criminal - behavior are being demonstrated by a small minority of those who are involved in the sport many of us cherish.
During a recent deer hunt on the Arizona Strip and on an archery elk hunt in Unit 7W near Williams, I heard about or personally witnessed some of these unethical or illegal acts.
Take, for instance, one guy from Phoenix who had waited almost a decade to draw a coveted Arizona Strip Unit 13B deer tag.
This guy, like many sportsmen, was thrilled about drawing one of the first-ever archery deer tags issued for the Strip.
And like many of those who had the tag, he went up way before the season opened and did some pre-season scouting.
He even set up a spike deer camp.
He located a lot of sign at the Dellenbaugh Water Catchment, a place where wildlife and cattle water.
The guy also found a trail camera that another sportsman had put up, and he apparently looked at the photos of deer that were on the memory card in the camera.
So far, no problem, in my opinion, since the camera wasn't locked, and a person after viewing the photos could have placed the card back in the camera and gone on about their business.
But in this case, the memory card that is used to store photos taken by the camera was removed by the guy in this story.
He forgot about the camera having some limited internal memory, and a photo was taken of him removing the memory card.
He was subsequently identified through his photo after it was posted on the Internet.
He denied taking the memory card to law enforcement, saying he had only removed and looked at the photos.
But the incident created a lot of controversy, and threats of bodily harm were made against the guy.
Because of the threats, he never showed up for the possible once-in-a-lifetime deer hunt he had waited so many years for.
If that wasn't bad enough, the same guy had put up a type-written sign near the water and where the memory card had been stolen.
The sign stated his hunting intentions in bold type.
It read: "ATTENTION. My name is (omitted). I will be bowhunting this waterhole from Aug. 22 to Sept. 4.
"Please do not proceed further into this area. Thank you for not disturbing this area."
Underneath his note, someone had written, "Dellenbaugh Water Catchment. Claiming hunt locations in advance is not allowed - first come, first served.
"This is not privet (sic) land. It is open to all hunters. Arizona Dept. of Game & Fish."
Luke Thompson is the game manager for Game & Fish in this unit. I asked him about the note and the theft of the memory card.
He said that while the information was correct about the area not being private property and that it is first come, first serve on persons using a water hole, neither he nor anyone else from the Arizona Game & Fish Department had written that message.
Thompson also said the thefts of trail cameras and notes being posted claming waterholes were clearly causing a lot of problems for law enforcement officers and sportsmen, alike. "Sportsmen are shooting themselves in the foot by these kinds of actions." Thompson said. "If this keeps up, you'll probably see some kind of rule or law made regarding placing cameras out on public lands."
The Arizona Game & Fish Department isn't the only agency that deals with these kinds of incidents.
Paul Krumland is a park ranger for the Lake Mead National Recreational Area. That includes the Arizona Strip and the Grand Canyon-Parashant National Monument.
Krumland said posting signs and claiming water holes in these areas are not allowed, and that as Thompson has said, it is first come, first served.
These guys are right.
Sportsmen need to think about what they are doing when they are out recreating on public lands.
Information on first-come, first-serve issues at waterholes and/or tree stands and blinds are clearly printed in the hunt regulations booklet published by the Game & Fish.
It is time for sportsmen to recognize that ethics and obeying the law, like hunting skills, are also very important aspects of this sport.