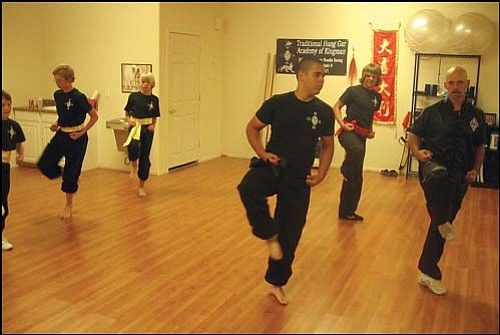 Originally Published: October 12, 2008 6 a.m.
KINGMAN - Thirty years ago, Larry Lavendol started practicing an old family tradition. A very old family tradition - several centuries old, in fact - and not his family, either.
Lavendol is the proprietor of the Traditional Hung Gar Academy of Kingman, a martial arts training center at 3518 Irving St., that teaches Hung Gar, a branch of traditional southern Chinese kung fu that Lavendol said translates as "honest and moral family."
"I've been doing this for a long time. I started training when I was 9," Lavendol said.
Originally from New York, Lavendol formerly taught kung fu to American-born Chinese students in Phoenix before coming to Kingman. He has also trained and competed in Taiwan and China, including at the legendary Shaolin Temple in China's Henan province.
In the many years he's learned kung fu, Lavendol has gained great appreciation for what he sees as the marriage of self-defense and philosophy inherent in the martial art. In starting his own training center, he said, he hopes to bring the philosophy back into the equation.
"Originally at Shaolin, fist fighting and philosophy were together, they were inseparable, you couldn't distinguish one from the other," Lavendol said. "Eventually, a lot of schools focused only on the martial aspect."
And at first, that's what Lavendol's students do as well. But unlike the more strictly regimented Japanese martial arts, such as karate, Hung Gar does not feature a large assortment of colored belts and degrees.
Instead, it's up to the teacher and each student to know where they are in their training.
"In karate, they have ranking systems," Lavendol said. "In traditional Chinese martial arts, there is no ranking system. I do offer four levels - the first level is no sash, that's just the basics."
From there, Lavendol's students take on a yellow sash as they learn additional techniques and stances, then orange and finally black. Lavendol noted the lack of a rigid belt structure is part of Hung Gar's history - the art developed shortly after the Ming dynasty in China was deposed by the more oppressive Qing dynasty, and was adapted to teach laymen how to become deadly in a short amount of time.
"This style is a rebel martial art," Lavendol said. "It was designed to teach a farmer or a merchant how to defeat a standing army."
Lavendol likens learning Hung Gar to learning a new language: First, students need to learn the vocabulary, then they learn synta, and practice "talking," or sparring, before working their way up to the more delicate nuances.
"Telling a joke in a foreign language, for example, is very difficult," Lavendol said.
Throughout training, students learn the four pillars of Hung Gar: Seizing the Tiger, emphasizing the basics and building endurance; Tiger Crane, focusing on projecting external force; Five Animals Five Elements, featuring the more nuanced stances and techniques; and Iron Wire, an internal form which centers on building strength.
As students increase in skill, the focus of their training begins to change, and that is where Lavendol's emphasis on philosophy comes to the forefront.
"Our beginning levels are about how to defend yourself," he said. "The later levels are more about how not to. We'll eventually be doing things like meditation, and at that point, the student becomes the teacher."
Lavendol said as his students master their fighting techniques, they are then expected to look inward and understand how and why they fight in the first place. In general, Lavendol said, fighting is a means of trying to directly influence what someone is doing, and understanding the motive behind that is as important as the act itself.
"When you're engaged in a fight with somebody, there's something that person's doing that you want to change," he said. "But the only thing you can truly change is yourself."
Lavendol currently offers classes to ages 8 and up, two nights a week, with two classes each night from 4:30 p.m. to 6 p.m. and from 6 p.m. to 7:30 p.m. Thursdays and Fridays. Students take two classes a week in any combination of those times and pay by the month - there are no startup or membership fees.
"I hated those as a student, and I'm not doing it as a teacher," Lavendol said. "(Classes) are small, but the students I have are really dedicated. I'm emphasizing quality over quantity."
For more information or to enroll in the Traditional Hung Gar Academy of Kingman, call (928) 377-0871.