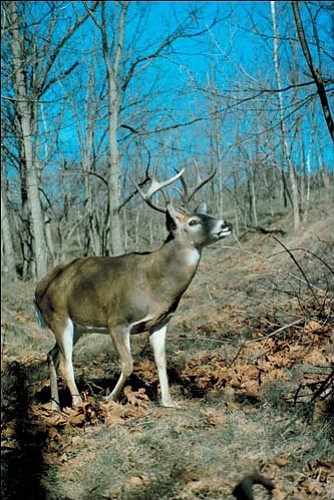 Originally Published: October 15, 2008 6 a.m.
Rick Webb is a local sportsman who had waited almost 20 years to draw his first Arizona antelope tag, but when Lady Luck smiled on him this year, he made the best of it and bagged a record buck.
Webb had applied off and on for an antelope tag and had accumulated 10 bonus points going into this year's drawing.
I had spoken with him prior to the application deadline about areas he might apply for. I suggested that Unit 18B might be a good second choice.
Webb took my advice and applied for a tag in Unit 18B, which had 30 buck tags available.
He missed out on his first pick, but as luck would have it, he drew his second choice.
After Webb informed me that he had drawn a tag in Unit 18B, he asked where he should go to hunt. My suggestion was an area called Goodwin Mesa.
Now, this is where the story takes an interesting turn. In most of my stories about successful big-game hunts, you'll probably see where the hunter did a lot of pre-season scouting.
That was not the case with Webb. "I never scout before a hunt," Webb said. "Never had to."
This hunt was to be no different, and the first time he set foot in the unit was on the first day of his hunt.
With him on the trip were his sons, Tim and Rick, and two grandsons, Zane and Rylan.
Webb laughed when he said he almost missed the road that leads up to Goodwin Mesa, but he found it and was surprised at all of the antelope there.
On opening day, they saw a lot of antelope and only a few hunters, so Webb and his family decided to be very selective on the buck he was going to try and take.
When day 2 of the hunt started, once again the Webb family were in the field looking at antelope.
More antelope were seen, but it was getting late in the day when they spotted a single buck high on a ridge.
This buck seemed to have it all. Sporting thick, tall, black horns that curled in at the top with great mass, the decision to take this buck over the other 20 or so that they had seen was easy.
However, the buck was a long ways off, and it would require a great shot to put him down.
Webb was using his son Tim's 25 Winchester super-short mag rifle that was topped with a special high-powered Shepherd rangefinder scope.
Using another rangefinder to verify the range, they determined the buck was right at 400 yards away.
Webb took aim, and while his family watched, fired. The buck literally dropped in his tracks!
As it turned out, the buck was a lot better than they thought. I had the opportunity to measure the buck and found it to be one of the better bucks that I have heard of being taken in this unit is the past five years.
The longest horn was 16-¼ inches tall, while the other, even with a broken tip, was still well over 15 inches tall.
The base measurements of this buck were an incredible 7.4 inches and 7.2 inches.
The buck's "green score" was over the amount needed to make both the Arizona and the prestigious Boone & Crockett record books.
After the mandatory 60-day drying period, the horns will be rescored by an official B&C scorer, and if the horns don't shrink a lot, Webb and his buck will earn a spot in the record book.
"This was one of the most exciting hunting trips I've ever been on," Webb said. "To have my family there on this hunt was very special to me."