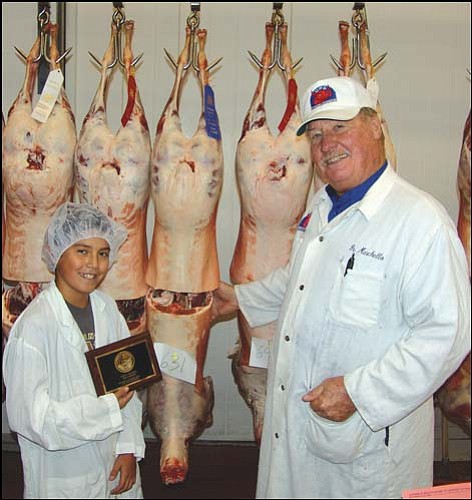 Originally Published: October 19, 2008 6 a.m.
KINGMAN - To get the real story on the quality of the meat on the animals they raised, 4-H members from Mohave County traveled to Tucson to participate in the 30th-Annual Mohave County 4-H Carcass Contest.
Judging live animals on the hoof, as is done at the county fair, is very different from judging carcasses on the rail, according to Gerald Olson, Extension agent, 4-H.
Livestock judges judging on the hoof cannot see through the hide of the animal, so they must rely on their experience and knowledge to place the animals.
But after the animals are sent to market and the hide is off, that's when the real story is told, Olson said.
Justin Tarr of the Bent Bucket Bunch 4-H Club received the Top Placing Swine of Merit Award, and 79 percent of the animals received Swine of Merit awards.
Members whose animals earned Swine of Merit awards were:
Ashlea Tomlinson, Bent Bucket Bunch 4-H Club; Reva Sullivan, Buck-N-Doe 4-H Club; Kenny Nix, Renegades 4-H Club; Tyleen Manuel, Buck-N-Doe 4-H Club; Austin Tomlinson, Bent Bucket Bunch 4-H Club; Justin Pendley, Black Mountain 4-H Club;
Also, Austyn Bailey, Bent Bucket Bunch 4-H Club; Trey Honga, Buck-N-Doe 4-H Club; Austin Bracken, Bent Bucket Bunch 4-H Club; Rochelle Pedi, Ropers, Riders & Critters 4-H Club; Brooke Dollarhide, Big Sandy 4-H Club; Alannah Suncelia, Buck-N-Doe 4-H Club; Emmali Burnside, Ropers, Riders & Critters 4-H Club; Logan Dollarhide, Bent Bucket Bunch 4-H Club.
Trey Honga, Buck-N-Doe 4-H Club, raised the Top-Placing Lamb-of-Merit Award.
Will Partridge of the Stockton Hill Herd 4-H Club raised the Top Goat of Merit.
Blaine Henry of the Bent Bucket Bunch 4-H Club received the top Steer-of-Merit Award and $100 from the Mohave Livestock Association for her 747-pound carcass.
All of the Award of Merit carcasses were of exceptional quality, but because of the strict judging criteria used, only the very, very best received awards, Olson said.
The carcass contest was developed to help members evaluate their exercise and feeding programs with the final finished meat product.
Dr. John Marchello of the University of Arizona Meat Science Department evaluated the beef, sheep, and swine carcasses according to strict standards and modern grading criteria of the meat industry.
For beef carcasses to receive a Steer-of-Merit Award, they had to have a ribeye size of at least 1.7 square inches per 100 pounds of carcass weight, yield grade not over 3.3, and a final carcass grade of select 70 or better.
Also used to evaluate beef carcasses were fat thickness, cut ability, and hot carcass weight.
Swine carcass competing for the Swine-of-Merit Award had to have a back-fat thickness less than 1 inch, a minimum carcass length of 29.5 inches, 55 per cent or more muscling, and muscle color had to range from 2-4.
To receive a Lamb-of-Merit Award, lambs needed to have a leg of lamb of specified size, a yield grade not to exceed 2.6, and the final carcass grade had to be Choice 50 or better.
It's a difficult job to balance the amount of feed and exercise to obtain a carcass with just the right amount of marbling and not too much fat, Dr. Ahmad said.
Dr. Marchello said that during the years he had been judging the contest, the quality of the animals has improved greatly, and it appears the members are obviously doing their homework in regards to feeding and caring for their animals.
These were some very outstanding animals, Marchello said.
2008 Carcass Contest photos and results can be viewed at : www.cals.arizona.edu/mohave/4h. View beef ribeyes, award photos and photos of the members' trip to Tucson and cxperience at the meat lab.
4-H is the University of Arizona Cooperative Extension System youth development program and is open to all youth ages 5-19, without regard to race, color, sex, religion, national origin or disability.
For more information about 4-H, contact Gerald W. Olson, Extension agent, 4-H Youth Development, The University of Arizona Mohave County Cooperative Extension Office, 101 E. Beale St., Ste. A, Kingman, AZ 86401-5808, or call (928) 753-3788.