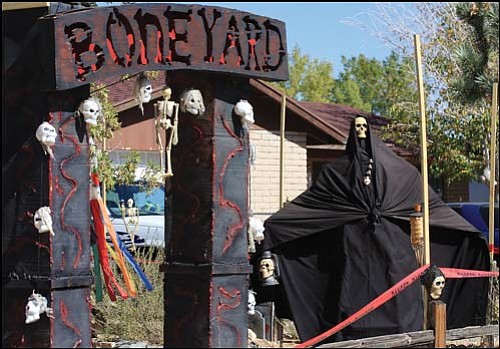 Originally Published: October 30, 2008 6 a.m.
KINGMAN - If you're looking for something entertaining to do with the family this Halloween - beyond raiding your neighbors' generous candy supplies - there are several groups standing ready to help you out.
Here is a list of Halloween-related activities that guarantee plenty of giggles, gasps and goose bumps starting today and running through Friday, on that spookiest of nights.
All of the fiendish festivities are either in the immediate area or taking place throughout the county in the communities surrounding Kingman. They include:
• Haunted House Party: 6-8 p.m. today at Hualapai Eagle's Hall, 3546 Patsy Lane, Kingman. (928) 757-8635.
• Haunted House: 5-8 p.m. Friday. Parking lot of Wal-Mart Super Center, 3396 Stockton Hill Road, Kingman. (928) 692-0555.
• Haunted House: 5-9 p.m. Friday. Kingman Dance Factory, 710 Eastern Ave., Kingman. (928) 279-7181.
• Halloween Party: 6 p.m. to close. Friday. Yesterdays Restaurant, 9827 Second St., Chloride. (928) 565-4251.
• London Bridge Days Halloween Fright Night and Candywalk: 6-9 p.m. Friday. Main Street, Lake Havasu City. (928) 453-3444.
• Pumpkin Fest: 5-7 p.m. Friday. (10/31) Mohave Community College, 1971 Jagerson Ave., Kingman. (928) 757-4331.
• Trunk-or-Treat: 5-8 p.m. Friday. Golden Valley Baptist Church, 100 S. Higley Road, Golden Valley. (928) 565-4682.