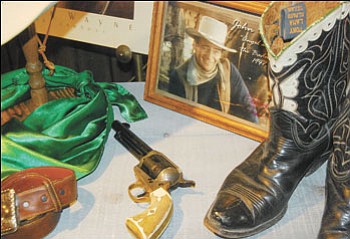 Originally Published: September 1, 2008 6 a.m.
"Chili" Bill Brooks has been collecting John Wayne memorabilia for roughly 50 years and many of the items in the collection he received from Wayne himself. Brooks said he was Wayne's pilot for a number of years in the 1960s and 1970s.
"I ended up with a lot of it because of that," he said. "I used to fly him to his ranches here in Arizona. One of them was down at Stanfield, Arizona, down by Casa Grande, and the other is over at Eager-Springerville and it's called the 26 Bar Ranch. The one down there at Stanfield is called the Red River Land and Cattle Company."
Officials with the Territorial Museum, located at Wild West Junction along Route 66, are currently playing host to Brook's collection, which includes memorabilia from "The Shootist" and many other films. Items on display include saddles, guns, clothing and more. Many of the items, according to officials at Wild West Junction, were Wayne's personal belongings, while others were items the iconic actor used in his films.
Wayne died from cancer in 1979, but left a legacy of films including "True Grit," "The Searchers," "Rio Bravo" and many more. A mannequin is also being prepared, one with Wayne's likeness, that will wear authentic clothing owned by Wayne. The mannequin, according to Wild West Junction owner Mike DuCharme, is being made by the same designer who makes mannequins for Madame Tussaud's Wax Museum in San Francisco.
Brooks said he was a friend of Wayne's for about 10 years.
"He was a fantastic individual, a real people person," he said. "He just loved to be around people, and they loved to be around him - men and women."
He said Wayne would have loved the Wild West Junction in Williams, which made the addition of the John Wayne memorabilia collection a perfect fit for the Territorial Museum.
"This was him," Brooks said. "Of course he would have been out right in the middle of it. He would have talked to everybody that came in the place and given them an autographed card and all that kind of stuff. That's the type of guy he was.
"I think that was part of his popularity. He wasn't standoffish, like some of these movie stars of today with their bodyguards. He wasn't like that. We'd pull in there at Springerville Airport and there would be 200 people waiting. They had heard that he was coming to town. He wouldn't quit until he had talked to them all, (until) they started wandering away and then we'd go on out to the ranch."
Brooks offered his own recollection of Wayne's career.
"He was so darn busy when he was younger," Brooks said. "When he got sick, he quit making so many movies. He was making three and four movies a year. It takes a lot to make a movie and, yet, he was doing all of those darn movies one after another.
"Of course he was making millions, but he gave it away. He was one of those kind of guys. He just said, 'As long as I've got enough money to live the way I want to live, what the hell.'"
As a pilot, Brooks was involved in the commuter airline business, where he said he would often fly for the Hearst Corporation.
"I used to fly all these fancy people: politicians, movie stars, all those kind of people, into the Hearst Castle," Brooks said.
Besides being a pilot, Brooks was also rather famous in his own right, having starred in his own cooking show for ABC in years past. He has also authored a book on John Wayne's ranches in Arizona, entitled "The 26 Bar Ranch Scrapbook." The book, which is on sale at Wild West Junction, contains rare photographs of John Wayne.
"I bought the foreman's old house over at the 26 Bar Ranch and my house sits about 60 yards behind John Wayne's house," Brooks said. "When I bought the house, the wife of the foreman said, 'You might want to check out all those pictures that are in the closet one of these days.'"
Other items on display at the Territorial Museum include authentic Civil War and Spanish-American War uniforms, weapons, documents, a saddle made by G.S. Garcia, as well as movie memorabilia from westerns, including a deck of playing cards used in the film "Tombstone."
Wild West Junction is located at 321 E. Route 66 in Williams. Call (928) 635-4512 for hours of operation and more information.