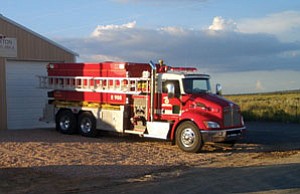 Originally Published: September 2, 2008 6 a.m.
Residents in the Truxton area will soon see an improvement in fire and rescue services in their area.
Since its consolidation into the new Northern Arizona Consolidate Fire District No. 1, major improvements have propelled the department into a full service emergency services organization.
Last week, a new $205,000 fire engine was delivered to the department.
The new truck has a 1,500-gallons-per-minute fire pump, a 3,500-gallon water tank and a state of the art remote control nozzle capable of flowing more than 1,000 gallons per minute.
The large water capacity was needed due to the lack of fire hydrants in the Truxton area.
The new truck was paid for through a 2007 Federal Emergency Management Agency, Assistance to Firefighters Grant, and equipped with other grant funds.
It also carries radio equipment to coordinate emergency response, a thermal imaging camera to locate victims and structural firefighting equipment.
The existing fire station was remodeled to accommodate the new truck.
The new truck supplements a second fire engine housed at the station.
That truck is equipped with 1,250-gallon-per-minute fire pump and a 1,000-gallon tank. It also carries rescue tools for traffic collisions.
Together, the two trucks carry more than 4,000 gallons of water.
The two engines will respond to emergencies in Valentine, Hackberry, Valle Vista, Seligman and Truxton as well as to fires at federal buildings in Peach Springs.
An evaluator from the Insurance Services Office will be in Mohave County today and Wednesday to re-evaluate Truxton, Chloride, Valley Vista and Hualapai Valley Fire departments.
NACFD No. 1 is anticipating that Truxton will reduce from an ISO Class 9 to an ISO Class 8, which could reduce property owners' insurance premiums. The district's ultimate goal is to reduce Truxton's ISO rating to a Class 6. This would be a big improvement over the Class 10 rating Truxton received in 2001, when ISO actually decertified the department due to the lack of training, communications and equipment.
Besides new equipment and possibly reduced insurance premiums, two of Truxton's employees were recently certified as emergency medical technicians, while other members of the department were certified in first aid and CPR.
The new EMTs and emergency equipment carried on Truxton's fire trucks has the potential to save lives. It can take more than 45 minutes for an ambulance from Kingman to arrive on the scene of an accident or medical emergency.
A total of 10 volunteers staff the Truxton Fire Station and three volunteer firefighters are available at Valentine Fire Station.
More changes may be in the future. A local property owner has begun the process to donate an acre of land for a new fire station. The new station will include a helicopter pad to transport patients and support wildland firefighting operations.
Once the new station is constructed, the existing station will be used to support wildland fires in the area and throughout Arizona.
The district is also working on getting the first fire hydrant in the area to supply water to Truxton during a structural fire.