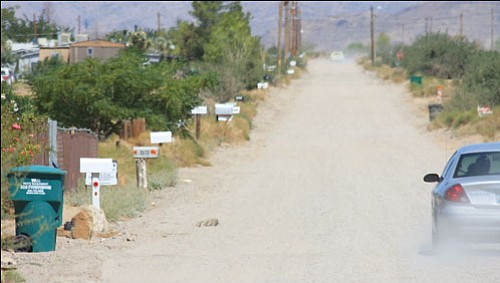 Originally Published: September 3, 2008 6 a.m.
KINGMAN - Mail thefts in and around Golden Valley have increased, and the U.S. Postal Inspector Service is educating residents on how to reduce threats.
The U.S. Postal Inspector Service sent a letter out to the customers in the delivery area on Wednesday.
"We noticed it's been going on for quite a few years," Kingman Postmaster Brian Camarillo said. "In the last year, we've seen an increase."
The Phoenix Division of the U.S. Postal Inspector Service has been working with the Mohave County Sheriff's Officer for the past two years to combat the problem.
"Investigation of the theft of U.S. mail while in the custody of the United States Postal Service is a top priority for postal inspectors, and we will do everything within our power to seek out those responsible and hold them accountable," the letter stated.
For the first time, they decided to send a letter out to people in hopes of getting more public involvement, Camarillo said.
"If everyone kind of works together - looking out for each other - it makes it difficult for them to steal," Camarillo said.
Individuals can report mail thefts to the U.S. Postal Inspector Service by calling (877) 876-2455 or (928) 526-5135 or online at postalinspectors.uspis.gov. Mail thefts can also be reported to the MCSO at (800) 522-4312.
Reports of thefts are key to finding the culprits.
"We usually get mail after it's stolen," Camarillo said.
Camarillo added they often have individuals alert them to the mail after it has been rummaged.
"Thieves are looking for anything valuable," Camarillo said.
While thieves usually just take mail and drive off, Camarillo said postal customers have said individuals are driving home to home, dropping off the unwanted mail on the neighbor's mailbox.
"A lot of time they do these in the evenings," Camarillo said. "We don't deliver in the middle of the night or early morning, so we know it's not us."
The U.S. Postal Inspector Service provided a list of precautions in the letter:
• Safeguard financial information, especially your Social Security numbers, account numbers and statements. Be careful when disposing of used credit card receipts and pre-approved credit card solicitations.
• Retrieve mail as soon as possible after delivery. Don't leave it for hours or overnight.
• If a mail receptacle has a locking device, make sure it works. The landlord should maintain apartment boxes.
• If expecting a check or credit card but are unable to be home when it is delivered, have a trusted friend get the mail, or better yet, have the mail placed on hold if you are away.
• Report any suspicious activity to local police or the postal inspector.
Suspicious activity may be someone following the letter carrier, attempting to break into a postal vehicle or tampering with mail.
• Report non-receipt of valuable mail as soon as possible by calling banks, credit card issuers and the Postal Inspector Service.
• Use letter slots at the post office to mail letters or give them to your letter carrier.
• Consider having blank checks mailed to a bank for pick up.
Even with the thefts, Camarillo compliments the USPS.
"In evolving technologies, it is still the safest way to send information," Camarillo said.