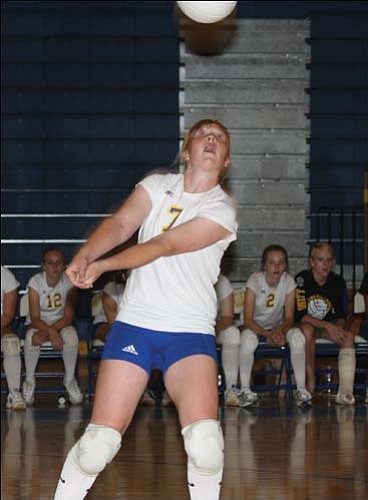 Originally Published: September 4, 2008 6 a.m.
KINGMAN - Lake Havasu High played tenacious defense and exploited Kingman's blocking and setting weaknesses in the season opener for both volleyball teams at KHS on Tuesday. The Knights put the Bulldogs away 25-14, 18-25, 25-15 and 25-18.
"They dug up everything," KHS coach Kasie Juelfs said about Havasu. "Their defense won it for them."
KHS (0-1) allowed the Knights' hitters to go crosscourt for what seemed to be the entire match. Juelfs said the Bulldogs blocking scheme just wasn't there and resulted in many missed opportunities. "Had we done it properly, it would have changed the momentum of the game," Juelfs said.
Juelfs will continue to depend upon juniors Lindsey Reed and Dominique Hale along with sophomore Sara Reed to shore up the middle for the Bulldogs. Sara Reed and Hale each had seven blocks to lead KHS, and three of Hale's blocks went for kills. Lindsey Reed finished with five blocks.
The Bulldogs were only able to get their act together offensively in the second game, which KHS won 25-18. The Bulldogs seemed out of sync for most of the contest with the exception of Game 2. When KHS did get things lined up, it tended to rely on tips rather going for kills.
"We had real problems when our setters had to come from the outside," Juelfs said. "We're going to have to work on our setting."
Lindsey Reed led KHS with 10 kills, Sara Reed had eight and Hale finished with seven. Setters Hillary Acer and Rachelle Bullen combined for 19 assists. Acer had 11 of them to lead the Bulldogs.
When the Bulldogs began resorting to tips rather than kills, it was a direct result of Havasu's defense. "That was just nerves," Juelfs said. "Our hitters lost confidence after a few were blocked."
A silver lining can always be found, and for the Bulldogs it was not being whistled for coming into contact with the net. Against Flagstaff Coconino on Aug. 28 in a preseason scrimmage, the Bulldogs were whistled frequently for the violation. However, the Knights were whistled seven times and KHS only five on Tuesday.
The sporadic play of the Bulldogs gave Juelfs cause to get on her team in preparation for their next game.
KHS takes on Bullhead City Mohave at 6 p.m. today at KHS, and the Bulldogs will head to the Havasu Tournament on Saturday.
"We made so many stupid mistakes," Juelfs said. "I hope to God this was just first-game jitters."