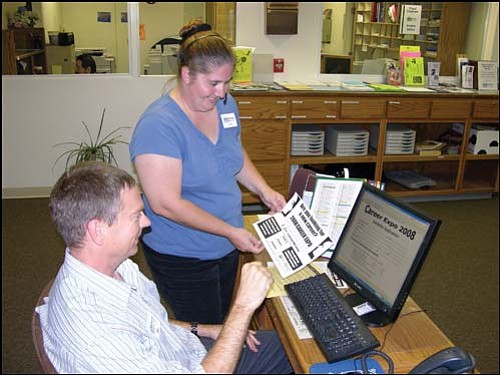 Originally Published: September 5, 2008 6 a.m.
KINGMAN - Mohave Community College will be hosting career fairs on their three southern campuses.
The first career expo will take place from 1 to 7 p.m. on Oct. 14 at the Henry Campus in Bullhead City, then on Oct. 15 at the Neal Campus in Kingman and finally on Nov. 6 at the Lake Havasu Campus.
Up to 50 employers are expected to take part at each campus. MCC is still seeking employers to participate.
Companies already participating include Farm Bureau Financial Services, the Arizona Department of Economic Security, Mohave County One Stop Career Centers, McKee Foods in Kingman and Hospice of Havasu.
The $75 business exhibitor fee for each campus event includes: exhibition space (one six-foot table and two chairs), a table cover, dinner for two company representatives and access to an employer workshop. To register as a business exhibitor or for more information, call (928) 682-5660.
Early registration is urged as space is limited on all three campuses. Hundreds of job seekers took part on each campus at the last college career fair and well in excess of 100 of those who attended were offered jobs.
Also during the expo, there will be free workshops for both employers and job seekers.
"Workforce Roadmap: The Employers' Guide to the Mohave County One Stop Career Centers; Navigate Your Way to the Right Employees" will be presented to the businesses. For the job seekers, the workshop "Extreme Workforce Makeover: Job Seeker Edition" will be offered.
Those seeking jobs should bring their resumes and be ready to interview for a job or to make an appointment for a job interview.
For applicants who do not have a prepared resume, or lack interview skills, there will be three free workshops prior to the career fair to help them offer their best at interviews. The workshops will be given from 2 to 3 p.m. and 5 to 6 p.m. on each MCC campus on the following dates: "Interviewing Tips" on Oct. 7; "Employment Search" on Oct. 8; and "Resume Writing" on Oct. 9.
The expo is a cooperative effort of MCC, the Arizona Department of Economic Security, Mohave County One Stop Career Centers, REPAC and the Kingman, Bullhead City and Lake Havasu City chambers of commerce.