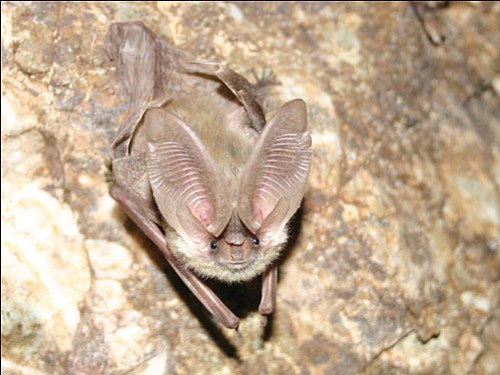 Originally Published: September 8, 2008 6 a.m.
KINGMAN - Her name is all over the Kingman Daily Miner and its Web site. Her photos and artwork have won numerous awards and been picked up by the Associated Press. She can be seen at every major event, rain or shine, with her camera in her hand and a camera bag on her shoulder. Her photos are known for their sharpness and unusual angles - and they usually contain a furry face or two.
Arizona residents will see J.C. Amberlyn's photographic work once again when the Arizona Game and Fish Department's 2009 Arizona Wildlife Calendar is published.
Amberlyn's photo of an Allen's lappet-browed bat was chosen to grace one of the calendar's pages.
"It's always an honor to receive one of these awards," she said.
Last year the department received 630 pictures from 117 residents. Only 13 photos are chosen every year for the next year's calendar. All photos must be taken in Arizona.
AGFD will release the names of the rest of the winners and their photographs on its Web site in October when the calendars are printed and available for sale.
Amberlyn has also won the 2008 Women Making History Art Award, 2007 Photo of the Month Award from the Associated Press, numerous awards from Western News&Info Inc., second place for the 2005 Best Feature Photo Layout and the 2006 third place Best News Photograph awards from the Arizona Newspaper Association, and numerous other awards.
Amberlyn is currently working on a second art book that involves how to draw animals in the Japanese manga comic book style.
Her first book, "Drawing Wildlife," is still in print and available at Hastings, online and at most major book stores. It was published in 2005, and more than 14,000 copies have been sold worldwide.