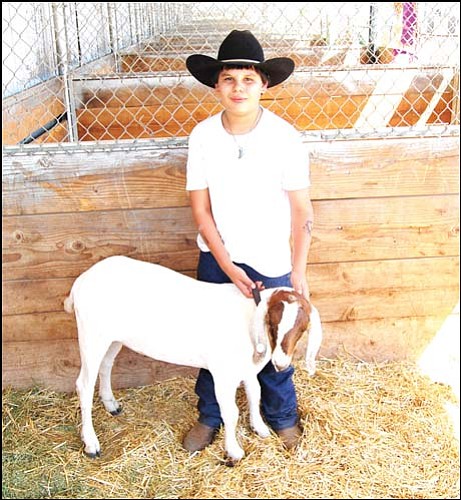 Originally Published: September 14, 2008 6 a.m.
KINGMAN - Ten months of hard work tending to his goat Avalanche resulted in Kevin Kinnett, representing the Cedar Hills 4-H Club, winning the 4-H/FFA Grand Champion Market Goat at the Mohave County Fair on Friday. It was the first time that Kevin, 12, won Grand Champion in three years of raising goats.
"Last year I was reserve champion," Kevin said.
Based on last year's results, Kevin said he felt good about this year's contest prior to the judging. "I knew I'd get at least Reserve in conformation," he said. Conformation is the judging of the muscles and meat on the animals.
Kevin took Avalanche from 90 pounds to 113 since November. Avalanche gained his weight on a diet of alfalfa and grass, and Kevin said last year's goat went from 84 pounds to 117.
Kevin said the difference between last year's goat and Avalanche is that Avalanche has more muscle and less fat. "He was real full around the brisket," Kevin said.
Avalanche's appearance and easy handling also earned the Best of Show for Kevin.
Though the chore required a lot of discipline from Kevin by having to work with Avalanche for 1-1/2 hours every day, Kevin enjoyed his time with the goat. "It's fun raising the animals and playing with them," he said.
Kevin said the hardest part was trimming Avalanche's hooves.
His experience has left Kevin wanting a little more for next year. "I might raise pigs and goats or steers and goats," he said.