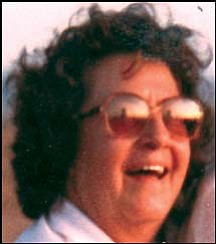 Originally Published: September 14, 2008 6 a.m.
Mary Sue Barringer (Young), 76, of Dolan Springs, beloved mother, grandmother, great-grandmother, companion and friend, passed away in her sleep on Saturday, Sept. 6, 2008, in Lake Havasu.
Mary Sue was born in Hamilton, Ala., to Roy and Anna Lee Young. She married and moved to San Francisco and San Antonio before settling in LaPorte, Ind., to raise her four children.
She had a life-long love of country music and performed live on the radio and across the country with her band.
In 1974, Sue met the love of her life in Joe Barringer and moved to Casa Grande. The couple then retired to Dolan Springs where Sue played her music and enjoyed her plants and wildlife and visits from her family, kids, grandbabies, friends and neighbors. She lost her cowboy in 1988, but soon met her wonderful companion and loving friend, Jake Jacobs, with whom she had 18 years of love, laughter and adventures.
Her last days were spent in Lake Havasu, surrounded by her beautiful garden, adoring pets, loving family and lots of laughter and wonderful memories.
Preceded in death by her parents, Roy and Anna Lee; and brothers, Charles and Bobby, Sue leaves behind four children, Sandra Schmidt of Aurora, Colo., Tena Blanton of Presque Isle, Mich., Shelvy Jackson of Kingman, and Kristi Thompson of Lake Havasu, along with eight grandchildren, Benjamin and Blake Tomlin, Crystal Ross, Jason Messer, Josh, Joe and Courtney Jackson, and Miranda Thompson. She is also survived by eight great-grandchildren, Conner, Chris, Chaise, Chanler, Cameron, Aiden, Ethan, David, and one blessing yet to be born.
Cremation is being handled by Lake Havasu Mortuary; services will be private and held at the Jackson Ranch in Dolan Springs.
The family owes great appreciation and gratitude to Comfort Keepers and Hospice, angels at our time of need.
Grandma, love you more ....
More like this story