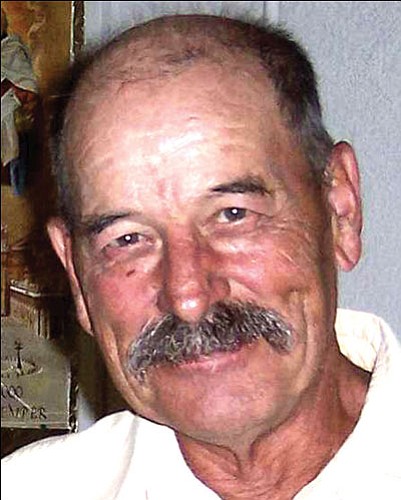 Originally Published: September 16, 2008 6 a.m.
Mass of Christian Burial will be 11 a.m. on Tuesday, Sept. 16, at Immaculate Conception Catholic Church in Becker, Minn., for Thomas Burger, age 69, of Kingman and formerly of Stacy, Minn., who spread his wings and flew to heaven on Friday at the home of his niece in Becker after a courageous and valiant 4-year battle with throat cancer. The Rev. Eberhard Schefers will officiate and burial will be in the parish cemetery. Friends may call from 4 to 9 p.m. Monday and after 9 a.m. Tuesday at the Williams Dingmann Family Funeral Home in Becker. Parish prayers will be at 8 p.m. Monday at the funeral home in Becker.
Tom was born April 10, 1939, in Hebron, N.D., to Heinrich and Julianna (Grinsteinner) Burger. He served his country in the United States Navy from 1957 to 1963. Tom married Mary Louise Howard with whom he had 6 children and they were later divorced. He married Patricia Ann Nelson on June 14, 1985, in Watertown, S.D. Tom worked at Arumors Meat, Unisys, which later became Sperry Univac, and lastly was plant manager at Precision Diversified Industry. He and his wife also owned and operated Painted Spirit Ranch in Stacy before moving to Arizona in 2003. Tom was a member of the Blaine VFW, volunteer fireman for the Inver Grove Heights Fire Department and member of the Mohave Search and Rescue in Arizona.
Tom will always be remembered for his love of outdoor life, whether it be four wheeling, horseback riding or building fences to keep the cows at bay. Always a cowboy at heart, Tom was always ready to lend a helping hand to friends and neighbors and will be remembered fondly by those who knew him best.
Survivors include his wife, Patricia of Kingman; daughter, Deb (Steve) Brunsvold of Cottage Grove, Minn.; sons, Dan (Helen) of Ham Lake, Minn., Mike (Melanie) of Inver Grove Heights, Minn., David (Ramona) of Rosemount, Minn., Rick (Shelly) of Circle Pines, Minn., and Terry of Rosemount; brothers, George of Gladstone, N.D., Joe of Inver Grove Heights, Henry of Austin, Minn.; grandchildren, Angela Raven, Jessica Burger, Robert Burger, Erica Martin, Brandon Burger-Lotsberg, Justin Brunsvold, Tony Burger, Ryan Mumm, Matthew Burger, Michael Burger, Zachary Burger, Nicolas Burger, Sarah Burger, Shane Mumm, Hannah Mumm, Samantha Burger, Jacob Burger, Jason Brunsvold, Maranda Burger; and great-grandchildren, Austin Burger, Chase Raven, Zachary Raven, and Nic Raven.
He is preceded in death by his parents; brothers and sisters, Tony, Annie Grinsteinner, Lena Gliech, Katherine Meyer, Frank, Mary Krebbs, Emma Tuhy, and Tillie Peterson.
Casket bearers will be sons, Dan, Mike, David, Rick and Terry, and grandson, Michael Burger. Honorary casket bearers will be grandsons Tony, Matthew and Phillip Burger.
Obituary and guest book are online are at www.williamsdingmann.com.
More like this story