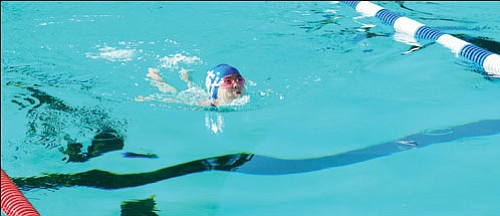 Originally Published: September 17, 2008 6 a.m.
KINGMAN - A strong finish by the Kingman Dolphins Swim Team wasn't enough as Glendale Swim Neptune captured the Combined Team championship at the Andy Devine Days Invitational held on Saturday and Sunday at Centennial Park.
After two days and more than 90 events, only 10 points separated first through third places. Neptune won the invite with 861 points, the Havasu Stingrays took second with 859 and the Dolphins were third at 851 points.
The Dolphins took first and second places in the meet's last two events. Alexis Bathauer was first in the girls 11-12 1,650-yard freestyle, followed by Hailee Wiest. The boys 11-12 1,650 freestyle had Patrick Webb in first, and Jacob Miyauchi in second.
Webb led the Dolphins boys team to first place in the boys scoring. The Dolphins had 531 points and outdistanced second-place Neptune by more than 200 points, as Neptune finished with 311.
Webb had four firsts in the 400 individual medley, 1000 freestyle, 200 backstroke and the 1,650 freestyle.
Kael Juelfs had three wins for the Dolphins in the boys 8-and-under 50 butterfly, 100 freestyle and 100 individual medley. Juelfs' 100 IM win came on Sunday after he took second in Saturday's event. Both events were counted in the tally.
"I was breathing really hard," Juelfs said after Saturday's swim. "I was swimming as hard as I could to beat the other guy."
Jacob Miyauchi had two wins for the Dolphins in the boys 11-12 100 backstroke and 500 freestyle. Kegan Snoddy, Alek Dunton and Brady Cowin rounded out the first-place finishes for the Dolphins boys team.
The Dolphins girls team finished in third place with 232 points. Bathauer led the girls with six wins, including the 100 freestyle, 100 backstroke, 200 freestyle, 1,000 freestyle, 200 backstroke and 1,650 freestyle. Hailee Wiest, also in the girls 11-12, was right behind Bathauer with five wins. Wiest won the 200 IM, 400 IM, 100 IM, 50 backstroke and 50 breaststroke.
The Dolphins return to training in preparation for the FPAC Fall Meet in Flagstaff on Oct. 24-25.