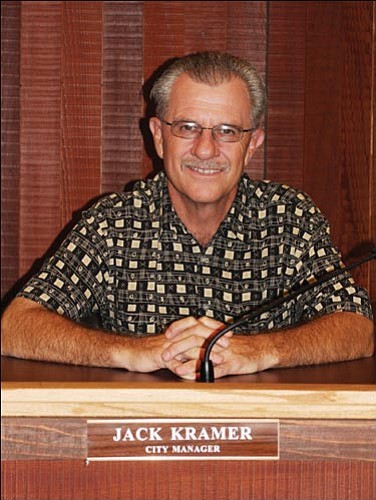 Originally Published: September 17, 2008 6 a.m.
KINGMAN - After standing vacant for the last 13 months, Kingman's city manager position has finally been filled.
At Monday evening's City Council meeting, Former Public Works Director Jack Kramer chose to accept the contract offered him by Council, following a 10-minute, closed-door executive session wherein the final details were hashed out.
Once Council reconvened, members prepared to vote to adopt the final draft of the contract, but not before Vice Mayor Janet Watson thanked staff and the contract subcommittee for crafting a document that she believed was "much more comprehensive than any contract this city's ever had for a city manager."
"I think it's a very, very fair contract," she said. "There are a lot of things incorporated in with it that might be a model of convenience for years and years in this city."
Following Watson's comments, the Council voted unanimously to approve the contract.
"Welcome aboard, Jack!" Councilman Kerry Deering cheered.
Following the vote, Mayor John Salem announced that, due to budget constraints, the city was unable to afford a new nameplate for Kramer, and proceeded to place duct tape over the "acting" part of the "Acting City Manager" plate Kramer has used for the past year.
Following the expected crowd laughter, Salem then handed Kramer the actual "City Manager" plate.
Following the meeting's adjournment, Kramer said he had been satisfied with the preliminary contract Council had presented to him Sept. 10. During the executive session, he said, only minor changes were made, though law prohibited him from going into further detail.
"I'm glad it's behind me now," Kramer said. "Now we can move on to replace the Public Works director and get somebody out there."
The contract itself is five pages long, more than double the length of the contract offered to Kramer's predecessor, Paul Beecher, in January 2005. Both contracts contain exactly 15 headings, but the content of those headings differs substantially between the two.
While four headings of Beecher's contract covered salary, insurance benefits, leave benefits and retirement benefits respectively, Kramer's contract lists all four under a single "compensation" heading, which runs the length of two full pages. The actual compensation of both men differs only slightly, however - Kramer's annual salary is listed at $125,000, while Beecher's "bi-weekly salary of $5,000" came to $130,000.
Perhaps the most significant difference in Kramer's contract comes under the "Termination" heading. While Beecher's contract allowed him to claim his full annual salary under any circumstances other than voluntary resignation, retirement or a felony conviction, Kramer's terms are much more nuanced.
If the City Council chooses to terminate Kramer with cause, such as a felony conviction, a code of ethics violation, or "action that have (sic) caused or may cause the City to be exposed to significant damages, claims or other harm," the city is not obliged to issue him any severance pay.
Even if Kramer is terminated without cause, however, the most he can expect to walk away with is three months' salary, plus one additional month for each year he serves as city manager, to a maximum of six months' salary.
With his position now official, Kramer said he was looking forward to continuing his commitment to open communication between City Council and staff.
While he admitted he wasn't going to miss his once-daily commute between City Hall and the Public Works Department, he wasn't sure his city-issued truck would feel the same way.
"My truck's done it for 29 years," he said. "I don't know if it knows how not to make that trip."