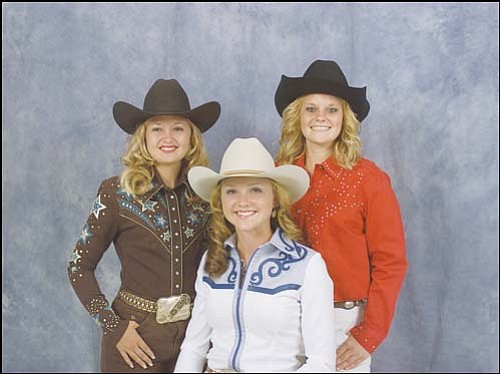 Originally Published: September 19, 2008 6 a.m.
KINGMAN - With every Andy Devine Days Rodeo comes the selection of the two young women who will represent the outward face of the rodeo throughout the next year - the Rodeo Queen and the Rodeo Princess.
This year, 10 contestants are vying for the two titles, with three running for the title of Rodeo Queen, and seven for Rodeo Princess.
"It's actually a pretty big competition for us this year," said pageant coordinator Tiffany Leo.
This year's contestants have already undergone several practices in anticipation of their competitive events. The first event, the horsemanship competition, is at 8 a.m. Sunday at the Red Wing Canyon Ranch, 748 Red Wing Canyon Road.
In full Western attire, contestants will be judged on horsemanship pattern, a hot lap, flag run, and a short interview covering some of the finer points of equestrianism.
The second competition, a contest luncheon, will take place at 1 p.m. Sunday at the Elks Lodge at 900 Gates St. There, contestants will be judged on appearance, modeling, public speaking and how they respond to impromptu questions.
Each contestant will also be given a private interview that will focus on rodeo, equine science, current events and life ambitions. Additionally, each girl will give a short speech on why she should be the Andy Devine Days Rodeo Queen or Princess.
The following Friday, Sept. 26, contestants will attend a 100 Club cocktail party at the Old Elks Lodge at Fourth Street and Oak Street. There, from 6:30 to 8:30 p.m., they will be judged on how well they mingle with club members.
The new queen and princess will be crowned following a 1 p.m. rodeo performance at the Mohave County Fairgrounds Sept. 28.
This year's competitors are as follows:
Queen contestants
Tori Hosler, 16, lives in Kingman and attends Kingman Academy of Learning, where she maintains a 4.1 grade point average.
Tori has attended barrel racing and riding camps and also enjoys hunting and camping. She has participated in Girl Scouts, 4-H, and the National Barrel Horse Association.
Tori's career goal is to become a dentist, although she plans to stick with rodeo events even as she enters the medical field.
"I'm proud of the rodeo tradition and would be honored to promote my hometown of Kingman and the Andy Devine Days Rodeo," she said of her desire to become Rodeo Queen.
Tori is the daughter of Cressi and Dusty Brown.
Cristyn Peacock, 17, lives in Golden Valley and attends Kingman High School. She was a Princess contestant two years ago and is also a former NBHA champion.
Cristyn enjoys singing and interior design and participates in volleyball and dance. Her life's ambitions are to study interior design in college and eventually become Miss Rodeo America.
"I love rodeo," Cristyn said. "It has been a big part of my life, and the Kingsmen have all touched my life. I want to give back to my community by doing something I love."
Cristyn is the daughter of Calven and Carla Peacock.
Cory Smith, 17, lives in Dolan Springs and is a graduate of Mt. Tipton High School.
She was Miss Dolan Springs from 2007 to 2008 and was also the vice president and salutatorian of her high school graduating class.
Cory's hobbies include barrel racing and team roping. She also plays volleyball.
Her long-term goals are to attend either Northern Arizona University or the University of Texas to study to become an orthodontist.
Cory hopes to become rodeo queen because "it would be a fun and exciting experience, and I would like the opportunity to meet many new individuals associated with the equine industry."
Cory also wants to be a role model to younger girls and inspire them to follow their dreams and ambitions.
She is the daughter of Tracy Alexander.
Princess
contestants
Angel Adams, 14, lives in Golden Valley and attends Kingman High School, where her ambition is to get good enough grades to make it to college to study to become an equine veterinarian.
Her hobbies include reading as well as writing poems.
Angel said her motivation for entering the contest was to have new experiences and make new friends.
She is the daughter of Jeremiah and Sarah Jackson.
Chelsea Winsome Barker, 13, lives in Bullhead City and goes to Mohave High School.
An honor roll student the past three years, Chelsea plans to attend Northern Arizona University in Flagstaff so she can take horsemanship lessons there.
Despite her age, Chelsea has already penned two books - her first, "My Sand Box," won her first place in the Young Authors Contest in second grade. Her second, "The College Trail," is dedicated to the assistant dean of Mohave Junior College, where Chelsea completed a geology course for the College for Kids program.
When asked why she wanted to become Rodeo Princess, she said, "I have heard that it is a great experience and a lot of fun. I like meeting new people and love horses."
She is the daughter of Mr. and Mrs. Dana H. Barker.
Chelsea Callahan, 15, is a resident of Golden Valley and attends the Kingman Academy of Learning.
Chelsea, who describes her hobby as "horses, horses, horses," has been training as a barrel racer since she was just 10 years old and has won five saddles, seven buckles and more than $4,000 running barrels.
Her ambition is to become a horse chiropractor and work for Arizona Livestock, as well as to continue running barrels in professional rodeos.
"I want to further my knowledge of horses and other livestock and learn everything there is to know about rodeo," she said. If selected, she hopes to serve her community with pride.
She is the daughter of David and Sue Callahan.
Taylor Grigg, 15, attends the Kingman Academy of Learning, where she has perfect attendance.
A resident of Hackberry, Taylor spends her spare time helping her grandfather on his ranch, riding and roping. She also plays basketball, golf, soccer and softball.
Having grown up on a ranch, Taylor hopes to have her own someday. Her life's dream is to become an equine massage therapist.
Taylor signed up for the pageant because, in her words, "I have always dreamed of being a rodeo princess!"
Having spent her whole life around rodeo, she said it would be an absolute honor to represent Kingman.
Taylor is the daughter of Nick and Shawn Weiss.
Jessica Head, 14, lives in Kingman and attends Kingman Academy of Learning High School, where she hopes to maintain the straight-A average she's had since first grade.
A 4-H camp counselor and club president, Jessica hopes to follow in the footsteps of her sister, former rodeo queen Teri Ann Head, by being a positive role model for kids and representing her city.
Aspiring to a career in forensic science, Jessica's other hobbies include barrel racing, gymkhana and participating in her church youth group.
She likes to ride along trails, swim, and enjoys playing softball, volleyball and water sports.
Jessica is the daughter of Terry and Nancy Head.
Tiffanee Smith, 13, lives in Golden Valley and goes to Kingman Academy of Learning High School, where she is on the honor roll and has managed a perfect attendance record.
Her hobbies include horseback riding, "quading" and hanging out with friends.
Tiffanee's ambitions are to finish high school and attend college, though she hopes to eventually find work as a professional model.
She said she wants to become a Rodeo Princess because "I feel I can represent it well and I will do my best while taking part."
Tiffanee is the daughter of Justin James Smith.
Lindsey Soles, 13, lives in Kingman and attends the Kingman Academy of Learning, where she is on the honor roll.
She has participated in local gymkhanas and is active in the Bent Bucket 4-H group. Her hobbies include roping, barrel racing, softball and volleyball.
Lindsey's goal in life is to become a veterinarian, so that she can help animals. Her reason for joining this year's Rodeo Princess pageant is "to help represent our community, meet new people and be a great role model for younger girls."
Lindsey is the daughter of Jay and Sheila Soles.
More like this story